March 17, 2013
Vikings fall to Albion in 3 OT's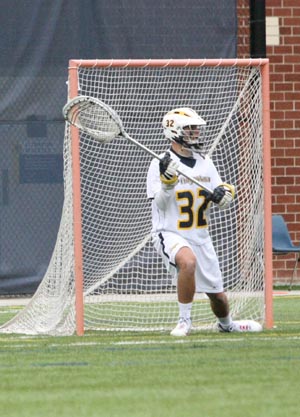 Sophomore goalkeeper Cody Burgdorff had a school-record 19 saves Sunday, but Augustana fell to 8-7 to Albion in triple overtime at Thorson-Lucken Field.
ROCK ISLAND, Ill.- Albion's Dan Genord scored his 21st goal of the season with 2:33 left in the third overtime to give the Britons an 8-7 win over Augustana Sunday at Thorson-Lucken Field. Tim Urso's game-tying goal with 13.4 seconds remaining in regulation made Albion's overtime win possible.

With 40 seconds left in regulation and Augustana up 7-6, the Britons' Jamie Kehoe fired a shot wide. However, the Vikings couldn't come up with the ground ball and Urso found the net with his 11th goal of the season to tie it. Augustana had a man-up advantage for the final 11 seconds, but couldn't score and the contest went to overtime.
Neither team scored in either of the first two overtime sessions, but Albion took advantage of a Viking turnover to get the game-winner. Albion's Kevin O'Grady made a run on the right side and lofted a pass to Genord on the left, who was able to beat goalkeeper Cody Burgdorff (Peak to Peak HS, Lafayette, Colo.) to end the game. It was the only time Augustana trailed in the contest.
Freshman Scott Davis (St. Thomas Aquinas HS, Overland Park, Kan.) scored twice in the first half and the Vikings took a 5-4 lead to the locker room.
Genord scored the only goal of the third period and the teams went to the fourth quarter tied at 5-5.
Davis scored with 12:29 left in regulation to give Augustana a 6-5 lead that it maintained until the 2:09 mark, when Urso scored with Albion a man up to tie it. Davis answered with his fourth goal of the day, and 15th of the season, 39 seconds later to put the Vikings up 7-6 and set the stage for Urso's late game-tying score.
Burgdorff was outstanding in goal, recording a school-record 19 saves, many coming at close range. In addition to Davis' four goals, sophomores Chris Hager (Exeter Academy, Newfields, N.H.) and Colin Haley (St. Charles East HS, St. Charles,. Ill.) and freshman Kevin Gleason (Loyola Academy, Chicago, Ill.) scored for the Vikings.
The loss drops Augustana to 2-3 on the year, while Albion improves to 4-3. The Vikings welcome another Michigan Intercollegiate Athletic Association opponent to Thorson-Lucken Field on Wednesday, when Calvin visits for a 7:00 p.m. contest.