March 17, 2013
Vikings pound Albion 16-3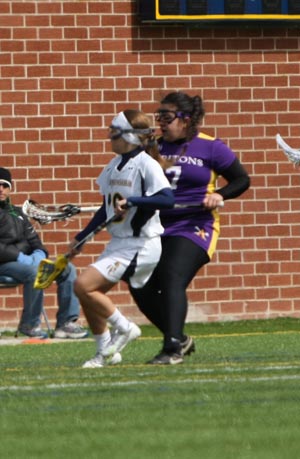 Sophomore Hilary Kargl scored two goals and had a team-high four assists as Augustana defeated Albion 16-3 on Sunday, March 17 to move to 4-3 on the season.
ROCK ISLAND, Ill. - Sophomore Hilary Kargl (Sacred Heart Academy, Louisville, Ky.) scored two goals and dished out four assists Sunday to lead Augustana to a 16-3 win over Albion at Thorson-Lucken Field. Sophomores Kate Zisser (Kirkwood HS, St. Louis, Mo.) and Christina Letmanksi (Glenbard West HS, Wheaton, Ill.) each added three goals as the Vikings improved to 4-3 on the season. Albion falls to 2-2.

Zisser opened the scoring at the 26:12 mark of the first half with her fourth goal of the season courtesy of a Kargl assist. Kargl then controlled the ensuing draw and knifed through the Briton defense for her third goal of the year and a 2-0 Viking lead. Letmanksi made it 4-0 with back-to-back goals, the first off a Zisser assist and and the second unassisted.
Freshman Emily Handrahan (Lake Zurich HS, Hawthorn Woods, Ill.) scored twice as Augustana extended the lead to 11-0 at the half.
Letmanksi scored with the Vikings a player down five minutes into the second half to make it 12-0. Ashley Glenn got the Britons on the board with a goal at the 23:08 mark with the help of a Mackenzie Novak assist. Goals from sophomore Gina Filippo (Libertyville HS, Green Oaks, Ill.) and freshmen Ryan Merhar (Oak Park River Forest HS, River Forest, Ill.) and Kaylee Nolan (Sandburg HS, Orland Park, Ill.) pushed the lead to 15-1 before Glenn scored her 12th and 13th goals of the season back-to-back. Zisser's third goal of the day, and sixth of the season, on a Kargl assist wrapped up the day's scoring.
Freshman Jenna Hofmann (Columbine HS, Littleton, Colo.) went the distance in goal for the Vikings and recorded a pair of saves, improving to 2-0 on the year. Handrahan contributed two goals and three assists to the Augustana attack.
On Saturday, March 23, the Vikings travel to Beloit, Wisconsin to face the Buccaneers in their first-ever Midwest Women's Lacrosse Conference contest.