March 16, 2013
Sawyer ties career record for wins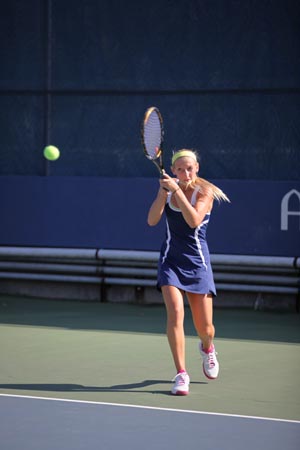 Junior Kim Sawyer beat Tai Lucero of Coe 7-6; 6-1 at number one singles on Saturday, March 16 and in the process moved into a tie for first place on Augustana's all-time list for career victories. Sawyer now has a career record of 76-17, tying her with Kirsten Pence, who compiled a mark of 76-19 from 2001-04.
CEDAR RAPIDS, Iowa - Despite the fact that her team dropped an 8-1 decision at Coe on Saturday, March 16, Augustana junior Kim Sawyer (Batavia HS, Batavia, Ill.) notched a record tying victory. Sawyer defeated Tai Lucero at number one singles by a score of 7-6; 6-1 and in the process tied the Vikings' school record for career victories.

Sawyer, who is now 20-3 this season, tied the existing school record of 76 career wins set by Kristen Pence from 2001-04. Pence was 76-19 during her career while Sawyer, who still has a year and half left, is 76-17. She was 29-7 as a freshman in 2010-11 when she played both number one and two singles. Since her freshman season she has been at number one singles exclusively and she was 27-7 as a sophomore before the 20-3 mark she has forged so far this year.
Coe, currently ranked 11th in the NCAA Division III Central Region, jumped on 20th ranked Augustana in doubles. The Kohawks swept the doubles to take a 3-0 lead heading into the singles. Sawyer and freshman Aileen MacDonald (Mundelein HS, Mundelein, Ill.) lost to Lucero and Michelle Schupbach 8-2 at number one. Seniors Krista Panko (Geneva HS, Geneva, Ill.) and Meghan Wethington (Geneseo HS, Geneseo, Ill.) fell to Gia Poynter and Laura Birky 8-2 at number two. At number three doubles the Augustana tandem of sophomore Miranda Pence (Oswego HS, Oswego, Ill.) and junior Caitee Margenthaler (Moline HS, Moline, Ill.) lost to Elizabeth Hoffmann and Jordan Ferree 8-3.
In singles action Schupbach beat Panko 6-0; 6-2 at number two and Amy Sebastian beat MacDonald 6-0; 6-0 at number three. Junior Emily Kaczmarek (Glenbard South HS, Lombard, Ill.) took Birky to three sets at number four before falling 1-6; 6-4; 7-10. Pence lost to Ferree 6-1; 6-3 at number five and Wethington fell to Hoffmann 6-2; 6-0 at number six.
Augustana, now 11-6 on the season, will host St. Ambrose on Sunday, March 24 at 9:00 a.m. at the Quad City Tennis Club in Moline.