March 16, 2013
Burns becomes 50th wrestling All-American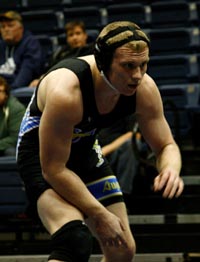 Senior Matt Burns placed seventh in the NCAA Division III National Wrestling Tournament on Saturday, March 16 in Cedar Rapids, Iowa. With that finish, he becomes the 50th wrestling All-American in Augustana history.
CEDAR RAPIDS, Iowa - Augustana senior Matt Burns (Naperville Central HS, Naperville, Ill.) became the 50th wrestling All-American in Augustana history on Saturday, March 16 with a seventh place finish at the NCAA Division III Wrestling Tournament in Cedar Rapids, Iowa. Burns, who was competing at 174 pounds, becomes the second Viking in as many years to earn All-American honors, joining Jordan Richardson, who was eighth in 2012, also at 174 pounds.

Burns clawed his way to All-American status the hard way as he shook off a first round defeat at 174 pounds to win three straight matches heading into Saturday's action. Burns, who came into the national tournament with a 34-9 record, lost his opening round bout to Ben Kramer of Messiah by a score of 7-4. That placed him in the wrestle-back draw and his next opponent was Ethan Ball from Coe, the host school for the championships. Burns got off to a 4-2 lead in the first period and held on to beat Ball 9-7.
His next opponent was Ryan Pieper of Trine and Burns pinned him in 4:23. He then defeated Dylan Azinger of defending champion Wartburg 10-9 to close out Friday's action. Burns met Zach Thomson of Gettysburg on Saturday morning in his quest for third place but was pinned at 1:16. That dropped him into the seventh place match where he got revenge on Kramer, his opening round opponent, with a 4-2 decision.
Burns, who was a participant in the national meet a year ago, finished with a 38-11 record on the year. Over the past two seasons he had a mark of 66-28 and he is 77-48 for his career.