March 16, 2013
Adrian hands Vikings first loss at TLF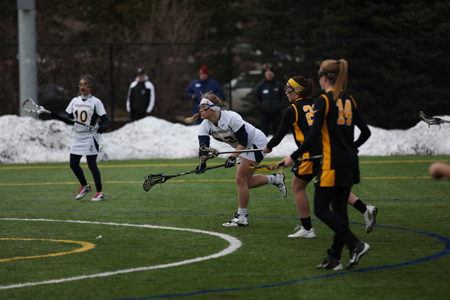 Sophomore Allie Roehrenbeck scored three times Saturday, but Augustana lost for the first time ever at Thjorson-Lucken Field, 16-11 to Adrian.
ROCK ISLAND, Ill.-Olivia Duncan and Cassie Hoyez each scored three goals Saturday as Adrian handed Augustana its first-ever loss at Thorson-Lucken Field. The Bulldogs improved to 5-1 on the season with a 16-11 win over the Vikings, now 3-3.

Augustana outscored Adrian 5-2 over an 11-plus minute stretch of the second half to trim what had been an 11-6 Bulldog lead to just 13-11 with six minutes remaining. Sophomore Christina Letmanski (Glenbard West HS, Wheaton, Ill.) and freshman Emily Handrahan (Lake Zurich HS, Hawthorn Woods, Ill.) and each scored twice during the run, with Letmanski assisting on both of Handrahan's goals. Unfortunately, the visitors scored the game's final three goals to put the game away.
Freshman Rebecca Pollard (Westfield HS, Carmel, Ind.) used the first of Letmanksi's four assists on the day to put Augustana up 1-0 with a goal just over a minute in. However, Adrian responded with four straight goals over the next nine and a half minutes to take a 4-1 lead.
The teams traded the next five goals, with Augustana's Allie Roehrenbeck (Columbus Academy, Gahanna, Ohio) scoring twice and Letmanski once, before Duncan (one) and Hoyez (two) scored three straight Bulldog goals to put the visitors up 9-4 with less than three minutes left in the first half. An unassisted goal by Viking sophomore Nattali Shelton (Wheaton Warrenville South HS, Wheaton, Ill.) cut the deficit to 9-5 at the break.
Pollard got Augustana to within three, finding the net off a Kaylee Nolan (Sandburg HS, Orland Park, Ill.) assist to start the second half scoring, but Duncan and Hoyez had back-to-back goals to extend the Adrian lead to 11-6.
Letmanski finished the day with three goals and four assists and Roehrenbeck scored three times as well.
The Vikings jump right back into action on Sunday, March 17, taking on Albion in a noon contest at Thorson-Lucken Field.