March 16, 2013
Vikings fall to Coe in battle of regionally ranked teams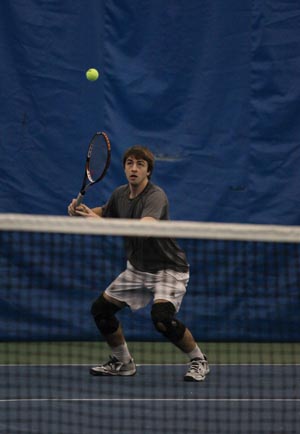 Senior Jack Cullen and doubles partner Kevin Bayles lost a tough 9-8 decision at number three doubles as Augustana, ranked 14th in the Central Region, dropped a 9-0 decision at ninth ranked Coe on Saturday, March 16 in Cedar Rapids, Iowa.
CEDAR RAPIDS, Iowa - Augustana, which moved into the NCAA Division III Central Region's top 20 for first time in school history this week, dropped a 9-0 men's tennis decision to Coe on Saturday, March 16 in Cedar Rapids, Iowa. The Vikings came into the match ranked 14th in the region while the Kohawks were ninth. Augustana is now 8-5 on the season while Coe stayed perfect at 18-0.

The Vikings fell behind 3-0 after doubles and were never able to make up any ground in the singles portion of the match. The Augustana number three team of senior Jack Cullen (Edgewood HS, Madison, Wis.) and junior Kevin Bayles (Homewood-Flossmoor HS, Flossmoor, Ill.) came the closest to winning a doubles match. Cullen and Bayles fell to Michael Janssen and Sean Stokstad 9-8 and are now 6-4 on the season.
Sophomore Lawrence Palmer (Schiller International School, El Prat de Llobregat, Spain) and junior Andy Wall (Notre Dame Academy, De Pere, Wis.) dropped an 8-2 decision to Noah Sprinkle and Curtis Newman at number doubles. Senior Will Palmer (Schiller International School, Leicester, England) and junior Colin Arnold (Sterling HS, Sterling, Ill.) fell to Yasushi Inoue and Riley Galbraith 8-4 at number two.
Wall went three sets with Newman at number four singles, eventually losing 4-6; 6-4; 1-10. Sprinkle defeated Lawrence Palmer 6-2; 6-1 at number one and Galbraith took care of freshman Harald Olsson (Lidingo, Sweden) 6-4; 6-4 at number two. Inoue got the best of Will Palmer at number three 6-3; 6-1 and Bayles fell 6-3; 6-3 at number five to Stokstad. At number six singles Arnold lost 6-1; 6-1 to Ryan Hickman.
Augustana will face Edgewood and St. Mary's on Saturday, March 23 in Madison, Wisconsin and then come home for a battle with St. Ambrose on Sunday, March 24 at the Quad City Tennis Club in Moline, Illinois.