March 15, 2013
25th-ranked Vikings sweep Greenville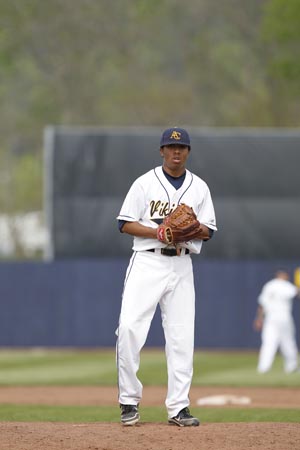 Sophomore Seth Davis fanned 12 and walked none in a one-hit shutout Saturday, leading Augustana to a 4-0 win in the opener of a doubleheader against Greenville. The Vikings won the nightcap 8-0 behind a Ben Heaton shutout, improving to 9-1 on the year.
LAKELAND, Fla.-Sophomore Seth Davis (Mullen HS, Aurora, Colo.) and senior Ben Heaton (Bloomington Central Catholic HS, Heyworth, Ill.) each spun a complete game shutout Friday as 25th-ranked Augustana improved to 9-1 this season with a 4-0, 8-0 doubleheader sweep of Greenville. Davis fired a one-hit gem in the opener and Heaton scattered seven hits in the nightcap.

Game One - Augustana 4, Greenville 0
Just four Greenville base runners reached against Davis in the first game. The only thing resembling a threat came in the bottom of the fifth. After getting the first two outs, Davis hit Dylan Goldsmith with a pitch. He then fanned Hunter Bryan, but Bryan reached and Goldsmith moved to second on a dropped third strike. The inning ended with no damage when Davis struck out Adam Wallace to end the frame.
Kenny Trager's two-out single in the first was the only hit allowed by Davis. Dalton McFarland, who reached on an error in the second before being picked off, was the only other Panther to reach. The Viking southpaw walked none and fanned 12 in seven innings.
Augustana got the only run it would really need in the second. Senior Mark VanNatta (Alleman HS, Moline, Ill.) was hit by a Tyler Mitchell pitch to lead off the inning. Senior Jared McIntosh (Assumption HS, Davenport, Iowa) singled him to second and sophomore Nick Tenerelli (Downers Grove South HS, Downers Grove, Ill.) walked to load the bases. A sacrifice fly by senior Tyler Bernal (La Salle-Peru HS, Peru, Ill.) plated VanNatta with the go-ahead run before Mitchell retired the next two Vikings to leave runners stranded at first and third.
Tenerelli's three-run double in the sixth gave the Vikings a four-run cushion. Davis didn't really need it though, retiring the last seven Panthers he faced, including five on strikes.
Augustana had just three hits in the contest. Senior Grant Stewart (Sterling HS, Sterling, Ill.) had a sixth-inning leadoff single to go along with the safeties by Tenerelli and McIntosh. VanNatta scored two runs despite not having an official at-bat. He was hit by pitches in his first two plate appearances and sacrificed, reached on an error and scored in the sixth inning. Davis improved to 2-0 on the year and lowered his ERA to 1.66.
Game two - Augustana 8, Greenville 0
Senior Jeremy Juhl (Glenbard East HS, Lombard, Ill.) delivered a bases-loaded triple in the bottom of the third to give Heaton 3-0 lead in the second game. Freshman John Swiderski (Geneva HS, Geneva, Ill.) and sophomore Danny Fifer (Lincoln-Way West HS, Lew Lenox, Ill.) each singled and junior Jacob Van Duyne (Wilmington HS, Wilmington, Ill.) reached on an error ahead of Juhl's big hit.
Meanwhile, Heaton was pitching around trouble, stranding six Panther base runners in the first four innings. However, he set Greenville down in order in the top of the fifth and the Vikings busted the game open in the bottom of the frame.
Fifer drew a one-out walk to get things started and moved to third on a Van Duyne double. Juhl drove in his fourth run of the game with a single and senior Kurt Schmidt (Grayslake Central HS, Grayslake, Ill.) followed with an RBI single to put Augustana up 5-0. Sophomore Kyle Lenihan (Romeoville HS, Romeoville, Ill.) scored Juhl and Schmidt with a two-run double and moved to third on VanNatta's single. McIntosh then singled, plating Lenihan with the final run for an 8-0 lead.
The Vikings threatened again in the sixth, but left two runners stranded.
Heaton walked a pair and struck out three, improving to 2-1 on the year. His performance dropped his ERA to 1.21 and the staff's to just 1.93 this year. Juhl had three hits and four RBI in the nightcap and Van Duyne had two hits and scored twice.
Augustana faces Webster on Saturday, March 16 at 1:30 p.m. and will wrap up play in Florida with a 9:00 a.m. contest against Anderson on St. Patrick's Day.