March 15, 2013
Women's track & field announces indoor awards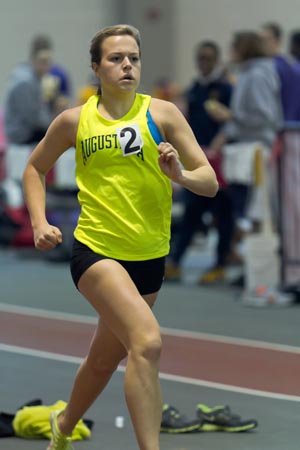 Freshman Anna Walsh was the winner of the Erica Vortman "Viking Spirit" award for the 2013 Augustana women's track & field indoor season.
Senior Sarahbeth Jones (Warren Township HS, Wadsworth, Ill.) and juniors Kierra Smith (Creston HS, Creston, Iowa), Liana Beauchamp (Genoa-Kingston HS, Kingston, Ill.) and Taelar Hillyer (Rock Island Alleman HS, Bettendorf, Iowa) shared Most Valuable Performer honors for the 2013 Augustana track & field team during the indoor season. Freshmen Anna Walsh (Mahtomedi HS, Mahtomedi, Minn.), Annie Martines (St. Charles East HS, St. Charles, Ill.) and sophomore Lizzie Lundine (Willowbrook HS, Villa Park, Ill.) were also tabbed during the award announcement.

Jones and Smith were co-winners of the Most Valuable Track Performer trophy while Beauchamp and Hillyer shared the Most Valuable Field Performer honor. Walsh was named the winner of the Erica Vortman Viking Spirit award and Lundine took home the Susan Wall Most Improved citation. Martines was named Most Valuable Freshman.
Jones was also named team MVP a year ago and the talented distance standout won the College Conference of Illinois & Wisconsin title at 3000 meters with a time of 10:16.92 on February 23 in Kenosha, Wisconsin. She also broke the school record in the 3000 when she ran 10:14.66 on January 26 in Bourbonnais, Illinois, erasing Susan Paige's time of 10:15.27 from 1999. She also was a member the 3200 relay that set a new school mark of 9:31.21 in Bourbonnais on January 26.
Smith had the team's top times in the 55 (:08.67) and 60 (:09.42) hurdle events as well as the 200 (:27.33) and 400 (:59.65). She was a member of the distance medley relay team that placed second in the CCIW. Last outdoor season she shared MVP honors with Jones.
Beauchamp set a new school record in the weight throw with her toss of 53' 11 ¾" at the Valentine's Day Invitational on February 14 in Rock Island. She placed second in the CCIW in that event. Hillyer was an NCAA Division III national meet qualifier in the pole vault with a leap of 12' 2 ½" at the Valentine's Day Invitational.
Lundine had the best time on the Vikings in the 2000 with a clocking of 3:13.86 and she placed seventh in the 5000 in the CCIW. Walsh won the Spirit Award for her attitude and dedication throughout the season.
Martines was a sprinter who recorded the team's fastest time in the 300 at the Midwest Invitational in Monmouth, Illinois on January 19 when she ran ::44.06.
Augustana finished fifth in the CCIW meet and ended the year ranked 19th in the NCAA Division III Indoor Track & Field Power Rankings.
2013 AUGUSTANA WOMEN'S LETTER WINNERS
NAME
YR
EVENT
HOMETOWN/HIGH SCHOOL
Rachel Akmakjian*
Fr
Sprints
Fort Collins, Col./Poudre
Jessica Bacon**
So
Mid Distance
Rock Island, Ill./HS
Kristyn Barton ***
Jr
Mid Distance
Elmhurst, Ill./York
Samantha Bazely **** (C)
Sr
Long Jump - Triple Jump
Coal Valley, Ill./Alleman
Liana Beauchamp ***
Jr
Hammer - Shot
Kingston, Ill./Genoa-Kingston
Kate Benge**
Jr
Sprints - Mid Distance
Bettendorf, Iowa/Pleasant Valley
Tara Bistry****
Sr
Distance
Joliet, Ill./Joliet Catholic
Kayla Bushey*
Fr
Long Jump - Triple Jump
Chicago, Ill./Luther North
Theresa Coverick***
Sr
Distance
Palos Park, Ill./Stagg
Danielle Engel*
Fr
Pole Vault
Saint Charles, Ill./North
Emma Grandgeorge ***
Jr
Distance
Sycamore, Ill./HS
Annie Heifner **** (C)
Sr
Mid Distance - Steeple
Oregon, Wis./HS
Taelar Hillyer***
Jr
Pole Vault
Bettendorf, Iowa/Alleman
Lauren Hoffman*
Sr
Sprints
Winfield, Ill./Wheaton North
Ashley Jensen-Anderson*
Fr
Hurdles
Rock Island, Ill./HS
Sarahbeth Jones**** (C)
Sr
Mid Distance
Wadsworth, Ill./Warren Township
Hana Lobsinger*
Fr
Distance
Wheaton, Ill./Wheaton-Warrenville South
Lizzie Lundine**
So
Distance
Villa Park, Ill./Willowbrook
Annie Martines*
Fr
Hurdles
Saint Charles, Ill./East
Kelsey Moon ***
Jr
Mid Distance
Wauconda, Ill./Mundelein
Astin Moravek**
So
Triple Jump
Riverside, Ill./Riverside - Brookfield
Helen Offerman*
Fr
Mid Distance
Oswego, Ill./Rosary
Amanda Pease ***
Jr
Steeplechase
East Moline, Ill./United Township
Kirstillyn Pohlman ****
Sr
Mid Distance
Winthrop Harbor, Ill./Zion Benton
Laura Polizzi**
So
Triple Jump
Crystal Lake, Ill./South
Jennifer Prazak **** (C)
Sr
Mid Distance
Naperville, Ill./North
Rachel Rodriguez*
Fr
Distance
Mahomet, Ill./Mahomet-Seymour
Johanna Schnitzler ***
Jr
Heptathlon
Woodridge, Ill./Downers Grove South
Kierra Smith ***
Jr
Hurdles
Creston, Iowa/HS
Stephanie Sorrentino*
Fr
Sprints
Elmhurst, Ill./York
Lorraine Stamberger**
So
Mid Distance
La Moille, Ill./HS
Kelsey Stockert ***
Jr
Mid Distance - Steeple
Mapleton, Ill./Peoria Notre Dame
Taylor Tjardes **** (C)
Sr
Pole Vault - Javelin
Gibson City, Ill./Gibson City-Melvin-Sibley
Anna Urbanczyk*
Fr
Long Jump - Triple Jump
Northbrook, Ill./Glenbrook North
Anna Walsh*
Fr
Mid Distance
Mahtomedi, Minn./HS
Head Coach: Frederic Whiteside
Assistant Coaches: Chad Thomas, Dillon Smith, Creston Fenn, Joshua Sherrod, Bob Sager, Jacqueline Menke, Adam Myers, David Gonzalez, Mike Pettis