New in the CSL: International Student Services
When President Steve Bahls announced in his fall 2012 State of the College address that Augustana would increase its international student enrollment 1% each year until reaching a goal of 10% of the student body, Jane Tiedge got busy.
At the time, she assisted Director of the Office of International and Off-Campus Programs Allen Bertsche. Their office already was seeing eight to 10 additional international students arrive on campus each year.
"In 2011-12, 15 international students stayed on campus during spring break," she recalled. "That's when we realized we needed a better program for them."
Traditionally, the office served students and others coming to campus from abroad, as well as Augustana students seeking study-abroad opportunities—two groups whose relationship was not convincingly strong enough to continue as one office. With goals to increase both international studies and international student enrollment, it made more sense to support these areas individually.
So, Jane and Allen agreed on what they call "an amicable divorce," and Jane's duties became focused on international student services. As director of the new office, she benefits from a logical proximity to other student services—the Office of Multicultural Services and the Reading/Writing Center—in their new location on the fourth floor of the Center for Student Life.
Jane runs a staff of 15 student global ambassadors, and together they help new students acclimate to life in the U.S., in the Quad Cities and on campus. Duties include helping with the admission process, documentation needs, communication throughout the summer before arriving, airport pick-ups, a five-day international student orientation, trips to area shopping, banking and healthcare locations... and the list goes on.
"I'm the person they call when they're sick," she said, producing a handout titled Not Feeling Well? with photos and descriptions of the mysterious boxes and bottles one can find in an American pharmacy.
Jane Tiedge started working at Augustana as secretary in the history, philosophy and political science departments 21 years ago. "I never thought I would be doing this," she said, "but after working with students, I've realized this is what I'm supposed to be doing."
As for the new Office of International Student Services, she admits, "the program as it now stands is not ready for our goal of 250 international students. But now I am able to devote 100% of my time to making that happen."
Working the Plan: Meet Christopher Whitt (political science)
Strategic Imperative 6: Enhance and celebrate our ties to the area around the college Imperative 6 is all about developing the vitality of the local community, something Christopher Whitt has been entrenched in since joining the Augustana faculty in 2007. Within two years of coming to the area, Chris delivered a talk for the Quad-Cities Chamber of Commerce on attracting and retaining a diverse workforce. That morphed into a position on The Network's Leadership Council, which has continued to bring Chris into contact with more and more people and organizations around the Quad Cities.
"I've become a contact point for many organizations within the community when they're looking to connect to students, looking to get word to the campus, they know they can talk to me," Chris said. "I'm able to talk about some of the good things we're doing at the college with audiences that previously weren't directly linked with Augustana, especially when you talk about the black and Latino community."
As Chris' involvement with the Quad-Cities community has grown, his interests in its progressive development have broadened as well. Most recently, his Leadership Council position afforded Whitt the opportunity to produce a short video sharing his vision for riverfront development. While the narrow focus of the River Vision 2020 campaign is on development in Moline, Chris' submission widened the lens to look at the expansion of The District in Rock Island in conjunction with extending downtown Moline.
"If we can get some development along the waterfront, it makes for a stronger Quad Cities," Chris said. "Any growth that we can see in the community that surrounds us, I think that that makes us a more viable option for students who are looking at colleges, as well as people looking for somewhere to work."
Support Chris' vision and Augustana's connection to the community by voting for his video. Voting ends at 11:59 p.m. tonight.
Field Notes
Senior Michael Gerber reflects on his last tour playing horn with the Augustana Symphonic Band.
It is hard to believe that I had my last-ever band tour with the Augustana Symphonic Band. I feel privileged and honored to have experienced four groundbreaking tours during all four years of my college career. The band has taken me all over the world: Midwest of America, Italy, West Coast, and Midwest one last time. Honestly, I never experienced so much passion and devotion for music than with this group of musicians. Music became something out of this world, because this band gave everything they had into every performance, and this year was no different.
It is my senior-year spring break, with snow on the ground and more snow to come with the Augustana Symphonic Band traveling the Midwest. I know it would have been nice to go somewhere warmer or more exciting than the flatlands of the Midwest for a spring break trip, but the band's tours are the one thing that I really get excited for! This tour in particular was about seven days of non-stop playing literature to a lot of people that had never heard us play before. They would praise us for our hard work and the beautiful sounds produced by our 60-piece band. People were struck by pieces like Passacaglia, which had then jumping out of their seats from the spookiness the band produced through playing it.
Music can do things to people that no one ever can fully explain. Our band, this tour and all tours of my four years of college have produced this music. This music has changed lives. People hear us and think about the truth, the sacrifice, and the secrets that we share with them. Music is a fluid emotion that streams from the Augustana Symphonic Band, and I thank God for being able to be a part of it. This band is more than musicians creating fantastic music; it's a family that I will never forget.
New Faces on Campus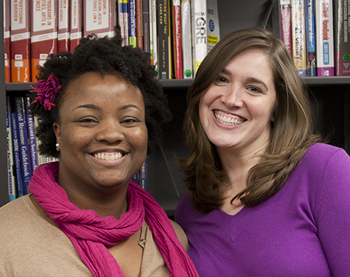 Kertesha Riley and Leah Grabovac, Community Engagement Center (CEC)
Kertesha Riley and Leah Grabovac are the new internship and career coordinators in the CEC. A native Floridian, Kertesha earned her bachelor's and master's degrees from the University of Florida, where she also served as an RA and worked in the university's J. Wayne Reitz Union Hotel. Joining the Internships and Careers team affords Kertesha her first opportunity to experience the snow and frigid air of winter in the upper Midwest.
Leah is a native of Rock Island and a graduate of Rock Island High School. She earned her bachelor's degree from Northwestern University, where she also played volleyball for the Wildcats. Leah earned her master's degree from the University of Minnesota.
Kertesha and Leah welcome any opportunity to meet with Augustana students in their office in Sorenson Hall. Leah works primarily with students studying humanities, arts, foreign languages, business and engineering physics. Kertesha works with science, social science and pre-professional program majors. Both are working to make early connections—hopefully early in the sophomore year—to help students make the most of their Augustana experience, including how to find and prepare for internships and undergraduate research opportunities.
After a brief but intense search, Kertesha has settled into her new place in West Davenport. Leah, her husband Zoran and their cats Appa and Pepper live in Coal Valley. Need a burst of energy? Stop by the first floor in Sorenson Hall, and have a chat with this dynamic duo.
From the Cabinet
David English, Vice President for Finance and Administration
When I was asked to write a "From the Cabinet" article, I hesitated for two reasons: how to pick just one of the many possible topics; and which financial topic wouldn't put an audience to sleep. The topic I selected may not be at the forefront of your thoughts, but nonetheless it is in the background of virtually everything we do at Augustana: financial sustainability.
I believe that financial sustainability is a critical component of institutional decision-making. I would like to define financial sustainability for an endowed institution as a state where:
• Annual operating revenues are greater than or equal to operating expenses—what normally comes to mind when we discuss a balanced budget. This is the keystone of fiscal prudence, and achieving this requires us to carefully plan and prioritize expenses according to the college's short- and long-term goals.
• The growth of annual revenues is greater than or equal to growth in operating expenses. This ensures that future budgets can be balanced and provides leeway if factors outside the college's control, such as inflation, changes in disposable personal income, and investment returns, are not as favorable as predicted.
• Support from financial assets (the endowment) is stewarded so that the purchasing power of these assets is maintained over time. Financial sustainability mandates that, over the long term, we preserve the real value of financial assets, in order to provide support for future generations of students.
• Reinvestment in physical assets (buildings and equipment) is sufficient to preserve their useful life. The physical plant is one of the college's major assets, and its real value should be preserved—analogous to the preservation of the endowment.
Maintaining financial sustainability is essential for guaranteeing Augustana's ability to meet its mission both now and into the future. Financial sustainability incorporates the concept that each generation of students should benefit equally from our assets. While we can't perfectly maintain this balance, we should be prudent, long-term stewards of the assets that have been entrusted to our care.
In the Works
Director of Human Resources Laura Ford authors a perennial series of information and wisdom pertaining to being an employee at Augustana College. This month features a coming attraction: Augustana performance appraisals.
Led by HR, a cross-functional team met this fall, charged with the task of developing a performance management process and appraisal tool that could be used by all non-faculty employees at Augustana. It was a daunting task, but this spring will mark the debut of this new tool and process. Our goal is to create consistent performance feedback and discussions to help us all towards continual improvement.
Managers are attending training sessions right now and are expected to complete all appraisals between March 15 and May 15. An optional self-appraisal is a feature we are encouraging all employees to take advantage of. Employee meetings to offer best practices for the self-appraisal will be offered next week and the first week of April.
The ITS department has created an automated tool that will streamline notification and create robust reporting capabilities. All employees will be evaluated using the same tool, and will have the opportunity to add comments.
Though the task force put much time and effort into creating this new system, some refinements may be necessary once we experience the "real world" of the process. We look forward to implementing a tool that fosters greater consistency and open communication about the quality of our work, and will seek your feedback over the summer.
Seen & Heard
"You don't see THAT every day!"—Meagan Bruck '14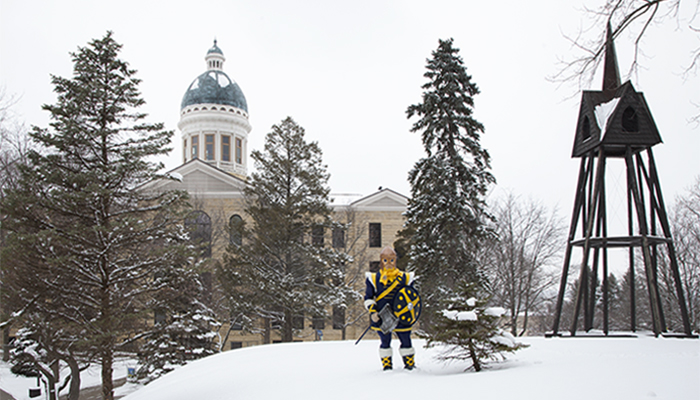 Gustav Mauler (Gus), the Augustana Vikings' mascot, walked the Quad on a snowy day in March.
Acknowledge is published by the Office of Communication and Marketing at Augustana College in Rock Island, Illinois. Contact Beth Roberts, editor. Photos in this issue were contributed by Scott Cason, as well as Drew Barnes '14, Angelica Lindqvist '16 and Long Nguyen '16 of the Augustana Photo Bureau.