March 14, 2013
2012-13 MEN'S BASKETBALL REVIEW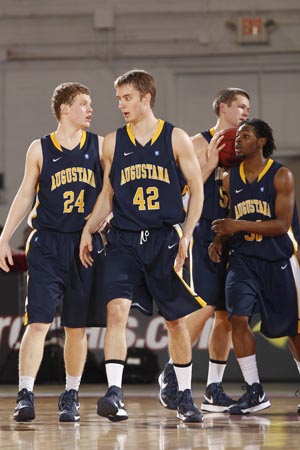 Freshman Griffin Pils (left), senior George Dexter (42), senior Brandon Kunz (back) and freshman Jawan Straughter (right) were part of a Vikings' team that put together a 19-8 season and made the championship game of the College Conference of Illinois & Wisconsin tournament in 2013.
Vikings finish the year 19-8; qualify for the CCIW tournament for the eighth straight season; Brandon Kunz and Ben Ryan named to All-CCIW second team; Ryan CCIW and regional Freshman of the Year

In what looked like a rebuilding year for Coach Grey Giovanine's Augustana men's basketball program, the 2012-13 version of the Vikings put together a 19-8 season, finishing fourth in the CCIW and qualifying for the conference tournament for the eighth consecutive season. Augustana knocked off then third-ranked Illinois Wesleyan 53-47 at Shirk Center in the CCIW semifinals before falling to then fifth-rated North Central 70-63 in the final. It was the fourth time in eight years that the Vikings reached the championship game and the first time they didn't prevail.
With just three upperclassmen on this year's roster, the team leaned heavily on its freshman and sophomore classes. Senior Brandon Kunz (Lake Zurich HS, Lake Zurich, Ill.) survived the season to earn team MVP, but the Vikings' other two veterans, senior George Dexter (Bettendorf HS, Bettendorf, Iowa) and junior Kevin Schlitter (Maine South HS, Park Ridge, Ill.), missed significant portions of the season with injuries.
Giovanine's young club opened the season with road dates at Aurora, St. Norbert and Chicago. The first two would go on to win their respective conferences and earn NCAA tournament berths. Behind 29 points from sophomore point guard Danielius Jurgutis (Downers Grove South HS, Darien, Ill.), Augustana survived a late three-point barrage to defeat Aurora 85-82. Freshman Ben Ryan (Washington HS, Washington, Ill.) had 18 points and 11 boards in a convincing 74-60 win at St. Norbert and the Vikings finished their season-opening road swing with a 70-52 win at Chicago. Schlitter came off the bench to score 16 points in 21 minutes.
UW-Platteville fell 69-57 in Augustana's home opener and the Vikings won their next two at home, including a 77-69 win over local rival St. Ambrose, to improve to 6-0. Seventh-ranked Wisconsin-Stevens Point overcame a three-point halftime deficit to hand Augustana its first loss of the season, 67-59, in Stevens Point, Wisconsin.
The Vikings closed out the non-conference portion of their schedule with four straight wins to improve to 10-1 and climb to 19th in the national poll, but suffered a huge blow when Schlitter was lost for the year to a knee injury. On the bright side, the team got the services of Dexter back for the CCIW run.
Two wins to open the conference slate bumped the Vikings to 12-1 and number 17 in the top 25, but they lost three straight to the teams that would finish 1-2-3 in the final standings - Illinois Wesleyan, North Central and Wheaton. Throughout the league regular season, Augustana handled the other four teams in the conference, but couldn't pick up a win over those three at the top, finishing 8-6 and in fourth place.
The only school in the league to play in all eight CCIW tournaments, Augustana picked up a signature win in the league semifinals. Facing third-ranked Illinois Wesleyan on its home floor, the young Vikings ground out 53-47 win, holding the Titans to 25 percent shooting from the field. The next night, Augustana lost for the first time in four tournament championship appearances, 70-63 to fifth-ranked North Central.
All eight of the Vikings' losses this season came to teams ranked 22nd or higher in the final regular season poll, including three to third-ranked North Central and two to 10th-ranked Illinois Wesleyan. They played 11 of their 26 games against NCAA tournament teams and nine against teams in the Top 25. They played five games against 2012-13 conference champions, winning three.
Kunz (11.0 ppg, 7.0 rpg, .559 fg%, .781 ft%) and Ryan (11.7 ppg, 6.8 rpg, .516 fg%) were selected to the All-CCIW second team. In addition Ryan, who became just the third freshman ever to lead the Vikings in scoring, was honored with the conference's first-ever Freshman of the Year award as well as D3hoops.com Midwest Region Rookie of the Year. Kunz wrapped up a fine career, ranking seventh in school history in games played (105), eighth in field goal percentage (.562), 19th in rebounding (493) and tied for 12th in blocked shots (41). In addition to MVP, he was selected as Augustana's best defender and rebounder.
Sophomore guard Mark Roth (Washington HS, Metamora, Ill.), who led the team with 36 three-pointers, joined Kunz, Dexter, Schlitter and Jurgutis as the only five players with more than 15 career varsity minutes entering this season. As a result, Giovanine relied on sophomores Brandon Thompson (Galesburg HS, Galesburg, Ill.) and Nic Hoepfner (United Township HS, East Moline, Ill.) and five freshmen, each of whom averaged over 10 minutes per game this year. Thompson averaged 7.4 points and led the team in free throw percentage (.803), assists (48) and steals (36). Hoepfner, in his first year at Augustana after transferring from Parkland College, averaged 6.0 points and 3.4 rebounds per game, shooting .687 from the floor and a CCIW-best .689 in league play.
While Ryan had the biggest impact among the freshmen, Tayvian Johnson (United Township HS, East Moline, Ill.), Griffin Pils (Libertyville HS, Libertyville, Ill.), Hunter Hill (Byron HS, Byron, Ill.) and Jawan Straughter (Plainfield East HS, Bolingbrook, Ill.) were all part of Giovanine's regular rotation this year. Johnson played in all 27 games, starting 20, and fought through recurring shoulder problems to average 6.3 points and 3.6 rebounds per contest. Pils averaged 4.8 points in just over 16 minutes per game, shooting .386 from three-point range and .781 from the free throw line. All eight members of this year's freshman class saw varsity court time this season, the most since 1987-88.
2012-13 CCIW MEN'S BASKETBALL STANDINGS
| | | | | | | | |
| --- | --- | --- | --- | --- | --- | --- | --- |
| TEAM | CCIW | W-L | PCT | Overall | W-L | PCT | |
| Illinois Wesleyan | | 13-1 | .929 | | 21-5 | .808 | |
| North Central | | 11-3 | .786 | | 24-3 | .889 | |
| Wheaton | | 10-4 | .714 | | 20-6 | .769 | |
| Augustana | | 8-6 | .571 | | 19-8 | .704 | |
| Carthage | | 7-7 | .500 | | 12-13 | .480 | |
| Millikin | | 4-10 | .286 | | 8-17 | .320 | |
| Elmhurst | | 2-12 | .143 | | 6-19 | .240 | |
| North Park | | 1-13 | .077 | | 6-19 | .240 | |
2013 CCIW TOURNAMENT
Shirk Center-Illinois Wesleyan University-Bloomington, Illinois
Friday, February 22 (2) North Central 59, (3) Wheaton 50
(4) AUGUSTANA 53, (1) Illinois Wesleyan 47
Saturday, February 23
(2) North Central 70, (4) AUGUSTANA 63
2012-13 AUGUSTANA SUPERLATIVES
CCIW TOURNAMENT: Only school to qualify for every CCIW tournament
D3HOOPS.COM NATIONAL RANKING: Ranked for four weeks, reaching a high of 17th in week six
CCIW ALL-CONFERENCE: Brandon Kunz (2nd Team)...Ben Ryan (2nd Team)
CCIW FRESHMAN OF THE YEAR: Ben Ryan
D3HOOPS.COM MIDWEST REGION ROOKIE OF THE YEAR: Ben Ryan
CCIW ACADEMIC ALL-CONFERENCE: Jake Gylten, Hunter Hill, Brandon Motzel, Ben Ryan
CCIW INDIVIDUAL STATISTICAL LEADERS: Field goal percentage - .689, Nic Hoepfner
CCIW TEAM STATISTICAL LEADERS: Free throw percentage - .726; Offensive Rebounds - 13.00 per game
2012-13 MEN'S BASKETBALL AWARDS
Most Valuable Player: Brandon Kunz
Best Defender: Brandon Kunz
Leading Rebounder: Brandon Kunz
2011-12 Captains: Kevin Schlitter, Danielius Jurgutis, Mark Roth
Junior Varsity MVP: Alex Dziagwa, Hunter Hill