March 13, 2013
2012-13 WOMEN'S SWIMMING & DIVING REVIEW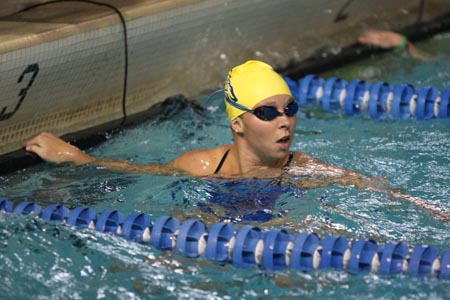 Junior Hillary Ferguson set two individual school records and helped in setting three relay marks during the 2012-13 season.
Vikings finish fourth at CCIW Championships; 3-3 in dual competition; Helen Myers claims third straight CCIW diving double; seven school-records fall

For the third straight season, Augustana junior Helen Myers (Pecatonica HS, Rock City, Ill.) won both the one and three-meter diving titles at this year's CCIW Women's Swimming & Diving Championships. Myers' performance helped Coach Scott Johannsen's Vikings take fourth place in the team standings. The team went 3-3 in dual meets in 2012-13 and broke seven school records, five of which involved junior Hillary Ferguson (Waubonsie Valley HS, Naperville, Ill.).
Ferguson broke individual school records in the 50 (:24.02) and 100 (:52.82) freestyles and swam on three record-setting relays. She teamed with seniors Molly Clennon (Benet Academy, Naperville, Ill.) and Alexandra Piper (Coal City HS, Coal City, Ill.) and freshman Emma Novak (Eden Prairie HS, Eden Prairie, Minn.) to take down Augustana records in the 400 (3:37.18) and 800 (8:02.21) freestyle relays.
In the 200 medley relay, Clennon led off and Ferguson anchored, joining sophomore Jamie Graf (Lincoln-Way Central HS, Downers Grove, Ill.) and senior Emma Regnier (Grayslake North HS, Lake Villa, Ill.) to post a school record 1:50.53. Clennon and Graf set new individual records as well. Clennon swam a 5:16.45 in the 500 freestyle and Graf's 2:16.29 in the 200 butterfly is also best in school history.
Behind a win by Myers in the one-meter diving competition, the Vikings opened the 2012-13 season by finishing second of three teams at Illinois Wesleyan's Halloween Invitational. The 3x100 breaststroke relay team of Regnier, freshman Jordan Johnson (Appleton North HS, Appleton, Ill.) and senior Emily Timmons (West Aurora HS, North Aurora, Ill.) was also a winner. In addition, Augustana picked up wins in the 500 freestyle relay (Piper, Ferguson, Clennon, Novak) and 3x100 medley relay (Regnier, Timmons, Novak).
The home schedule started off with a 159-77 dual-meet win over Monmouth at Carver Pool and then the Vikings headed back to Bloomington, Illinois for the Illinois Wesleyan Invitational. Myers won both diving events to help Augustana finish third in a six-team field.
Johannsen's squad followed that up with a fourth-place finish at Grinnell's 11-team Pioneer Classic and then returned to Carver and closed out the 2012 portion of its schedule with a 143-96 dual win over Loras.
2013 began with a 182-53 win over Coe in Cedar Rapids, Iowa. The Vikings dropped a dual to Luther 146-97 at home before competing in the 11-team Grinnell Invitational, where they finished seventh. A pair of close dual losses to Monmouth (68-62) and Division I Western Illinois (70-60) preceded the CCIW Championships. Several 2012-13 individual performances earned spots on the school's all-time top ten lists. In addition to her 50 and 100 freestyle records, Ferguson's 200 freestyle best of 1:57.72 now ranks third at Augustana. Clennon's 200 (1:57.67) and 100 (:54.48) freestyle bests rank second and fifth, respectively, to go along with her 500 freestyle record. Graf added a 1:08.99 in the 100 breaststroke (third at Augustana) to her record in the 200 breaststroke. Novak, Timmons and Hollyann Kabbe (Fenton HS, Bensenville, Ill.) also carved out top ten bests this year. Novak's 11:21.07 in the 1000 freestyle ranks fourth, Timmons' 18:56.07 in the 1650 freestyle is sixth and Kabbe ranks 10th with a best of 1:04.95 in the 100 backstroke.
2013 CCIW Swimming & Diving Championship
February 9-16, 2013-Bloomington, Ill. (Diving) & Wheaton, Ill. (Swimming)
Women's Team Results: 1. Wheaton 985; 2. Carthage 833.5; 3. Illinois Wesleyan 482.5; 4. AUGUSTANA 445; 5. Rose-Hulman 305; 6. North Central 229; 7. Millikin 181 Individual Champions and Augustana finishers
50 freestyle: 1. Kirsty Nitz, Wheaton :22.66; 4. Hillary Ferguson, Augustana :24.24; 16. Alexandra Piper, Augustana :25.87
100 freestyle: 1. Sarah Coley, Wheaton :52.75; 2. Hillary Ferguson, Augustana :52.82; 9. Molly Clennon, Augustana :54.48; 13. Alexandra Piper, Augustana :55.50
200 freestyle: 1. Katie Cialkowski 1:53.66; 11. Molly Clennon, Augustana 1:57.67; 12. Hillary Ferguson, Augustana 1:57.72
500 freestyle: 1. Lauren Dineen-Griffin, IWU 5:00.39; 11. Molly Clennon, Augustana 5:16.45
1650 freestyle: 1. Lauren Dineen-Griffin, IWU 17:27.31; 12. Emily Timmons, Augustana 18:56.07; 13. Erin Doty, Augustana 19:12.05
100 backstroke: 1. Kirsty Nitz, Wheaton :54.73; 14. Hollyann Kabbe, Augustana 1:04.95; 15. Laura Pemberton, Augustana 1:07.06
200 backstroke: 1. Jamie Walitsch, Wheaton 2:04.21
100 breaststroke: 1. Allison Soper, Carthage 1:06.02; 6. Jamie Graf, Augustana 1:08.99; 7. Emma Regnier, Augustana 1:10.41; 13. Jordan Johnson, Augustana 1:16.14; 16. Mackenzie Corrie, Augustana 1:18.35
200 breaststroke: 1. Allison Soper, Carthage 2:21.51; 6. Jamie Graf, Augustana 2:32.59; 12. Emily Timmons, Augustana 2:41.28; 16. Laura Pemberton, Augustana 2:47.54
100 butterfly: 1. Kirsty Nitz, Wheaton :53.06; 9. Emma Regnier, Augustana 1:00.79
200 butterfly: 1. Katie McHugh, IWU 2:02;.94; 7. Emma Regnier, Augustana 2:17.11; 12. Emma Novak, Augustana 2:25.93
200 IM: 1. Katie Deysher, Wheaton 2:06.80; 10. Emma Novak, Augustana 2:16.27
400 IM: 1. Katie Deysher, Wheaton 4:28.84; 10. Emma Novak, Augustana 4:51.49; 11; Emily Timmons, Augustana 4:54.92
200 freestyle relay: 1. Wheaton 1:34.92; 4. Augustana (Alexandra Piper, Molly Clennon, Emma Novak, Hillary Ferguson) 1:39.12
400 freestyle relay: 1. Wheaton 3:26.74; 4. Augustana (Molly Clennon, Alexandra Piper, Emma Novak, Hillary Ferguson) 3:37.18
800 freestyle relay: 1. IWU 7:41.31; 3. Augustana (Molly Clennon, Alexandra Piper, Emma Novak, Hillary Ferguson) 8:02.21
200 medley relay: 1. Wheaton 1:45.62; 4. Augustana (Molly Clennon, Jamie Graf, Emma Regnier, Hillary Ferguson) 1:50.53
400 medley relay: 1. Wheaton 3:53.12; 6. Augustana (Hollyann Kabbe, Jordan Johnson, Danna Jensen, Catherine Pittman) 4:26.10
One meter diving: 1. Helen Myers, Augustana 380.20; 2. Adelia Clark 329.30; 6. Megan McGregor 244.45
Three meter diving: 1. Helen Myers, Augustana 370.40; 5. Adelia Clark 261.30; 6. Megan McGregor 234.50
2012-13 AUGUSTANA SUPERLATIVES
DUAL MEET RECORD: 3-3
COLLEGE CONFERENCE OF ILLINOIS & WISCONSIN FINISH: 4th with 445 points
SCHOOL RECORDS: Hillary Ferguson... 50 freestyle (:24.02)... 100 freestyle (:52.82)...Molly Clennon... 500 freestyle (5:16.45)... Jamie Graf... 200 breaststroke (2:31.52)... 400 freestyle relay (Molly Clennon, Alexandra Piper, Emma Novak, Hillary Ferguson - 3:37.18)... 800 freestyle relay (Molly Clennon, Alexandra Piper, Emma Novak, Hillary Ferguson - 8:02.21)... 200 medley relay (Molly Clennon, Jamie Graf, Emma Regnier, Hillary Ferguson - 1:50.53)
CCIW ALL-CONFERENCE: Helen Myers, Adelia Clark, Hillary Ferguson
CCIW ACADEMIC ALL-CONFERENCE: Beth Cole, Danna Jensen, Kristin Molloy, Helen Myers, Ariana Nelson, Alexandra Piper, Catherine Pittman, Emily Timmons
TEAM FINISHES IN INVITATIONALS: IWU Halloween Invitational on 10/27/12 - 2nd of 3... Illinois Wesleyan Invitational on 11/17/12 - 3rd of 6... Pioneer Classic on 11/30-12/01/12 - 4th of 11... Grinnell Invitational on 1/18-19/13 - 7th of 11
INVITATIONAL INDIVIDUAL & RELAY CHAMPIONS: IWU Halloween Invitational on 10/27/12 - 500 freestyle relay (Alexandra Piper, Hillary Ferguson, Molly Clennon, Emma Novak) 4:47.44... 3x100 breaststroke relay (Emma Regnier, Jordan Johnson, Emily Timmons) 3:46.87... One-meter diving (Helen Myers) 205.35... 3x100 medley relay (Emma Regnier, Emily Timmons, Emma Novak) 3:23.32. Illinois Wesleyan Invitational on 11/17/12 - One-Meter diving (Helen Myers) 202.40... Three-meter diving (Helen Myers) 227.50
ALL-TIME TOP 10 LISTS Molly Clennon... 500 freestyle (1st - 5:16.45)... 200 freestyle (2nd - 1:57.67)... 100 freestyle (5th - :54.48) Hillary Ferguson... 50 freestyle (1st - :24.02)... 100 freestyle (1st - :52.82)... 200 freestyle (3rd - 1:57.72) Jamie Graf... 200 breaststroke (1st - 2:31.52)... 100 breaststroke (3rd - 1:08.99) Hollyann Kabbe... 100 backstroke (10th - 1:04.95) Emma Novak... 1000 freestyle (4th - 11:21.07) Emily Timmons... 1650 freestyle (6th - 18:56.07)