Warren to teach others about Midwestern tribes
March  13, 2013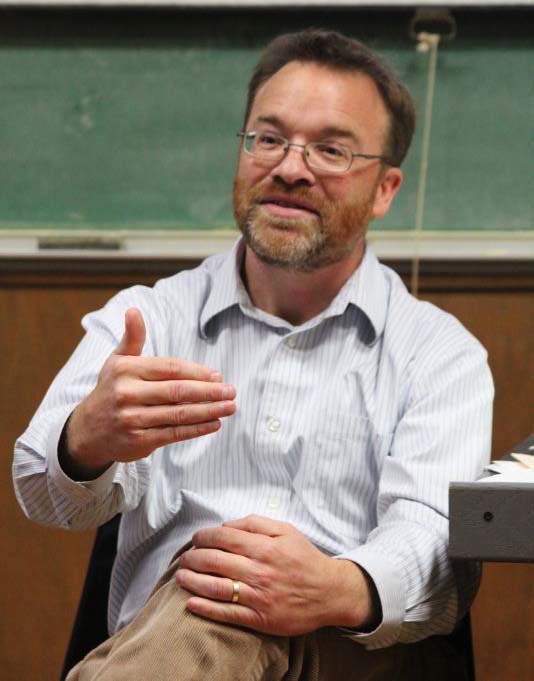 Dr. Stephen Warren
As a specialist in American Indian history, Dr. Stephen Warren, an associate professor of history at Augustana, is committed to increasing knowledge of American Indian communities. Dr. Warren recently was appointed to help with an effort by the Ohio Historical Society (OHS) and the National Endowment for the Humanities (NEH) to increase and share knowledge about Midwestern Native American tribes with community college educators.
The project, titled "Native Americans in the Midwest: Bridging Cultures at Community Colleges," has pulled together key scholars, including Dr. Warren, and tribal members to work with community college faculty and academic administrators. The project is designed to increase the community college participants' knowledge of existing research and scholarship on the history of tribes and their removal; introduce faculty to contemporary Native American cultural experiences; and facilitate a community of learning and research through course development and enhancement.
The removal of Midwestern Native Americans is not as well known or studied as the southern Trail of Tears. This project will study a region through which many Native Americans traveled and were resettled during the period of Indian removal. The region includes Ohio, Indiana, Illinois, Missouri, Kansas and Oklahoma.
The NEH grant will support the project from 2013-2015. The grant provides for three conferences for community college faculty and administrators, and it will provide professional development by compiling historical resources for Midwestern Native American history, exposing community college faculty to scholars and Native American experts, and bringing them to locations that are critical to the Midwestern Removal story. For more project information, visit http://www.bccc-nam.org.
Dr. Warren joined Augustana's faculty in 2002. Since that time, more than 30 students have traveled to Oklahoma under his direction to conduct service-learning projects for American Indian communities.
Sam Schlouch
Senior Communication Director
(309) 794-7833
samschlouch@augustana.edu