Calder explores uncovers best practices
March  11, 2013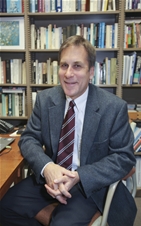 Dr. Lendol Calder
What are the best practices for teaching history to undergraduates? Dr. Lendol Calder, professor of history at Augustana College, is part of a national advisory panel exploring this and other big questions on behalf of the American Historical Association (AHA), with help from a Teagle Foundation grant.
An early milestone for the AHA advisory team is scheduled for Tuesday, March 12, at the University of California, Berkeley, when Dr. Calder and others will give a public presentation titled "Inside the 18-Year-Old Mind: Strategies for Teaching History in the 21st Century."
While at Berkeley, advisory team members also will start their work by looking at the required courses for history doctoral students. According to the AHA, the advisory panel will assist the Berkeley history faculty in focusing their courses on giving graduate students a deeper understanding of how undergraduates learn history, and instilling an openness to developing their full potential as teachers through engagement with scholarship on teaching and learning history.
The AHA website notes, "The project will continue with the AHA Teaching Division developing activities for our 2014 and 2015 annual meetings in Washington, D.C. and New York with the help of the expert advisory panel."
Along with Dr. Calder, the advisory team members for this initiative include Keith Erekson (University of Texas El Paso), David Jaffee (Bard Graduate Center), Mills Kelly (George Mason Univeristy), David Pace (Indiana University), Leah Shopkow (Indiana University), Sam Wineburg (Stanford University), and Laura Westhoff (University of Missouri-St. Louis).
Dr. Calder is a Carnegie Scholar and was named the 2010 Illinois Professor of the Year.
Sam Schlouch
Senior Communication Director
(309) 794-7833
samschlouch@augustana.edu