March 9, 2013
Vikings fall to 17th-ranked Whitewater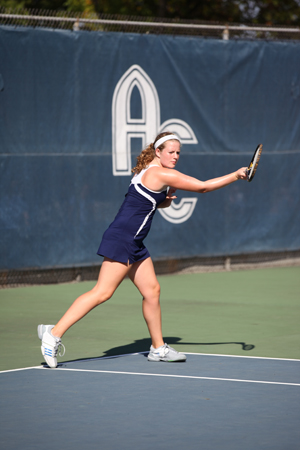 Freshman Aileen MacDonald and her Augustana teammates dropped a 9-0 decision to 17th-ranked Wisconsin-Whitewater Saturday in Elkhorn, Wisconsin.
ELKHORN, Wis. - Augustana junior Kim Sawyer (Batavia HS, Batavia, Ill.) came up short Saturday in her first bid to tie the school record for singles wins, falling 6-4, 6-2 to UW-Whitewater's Sydney Divelbiss in her match at number one singles. The 17th-ranked Warhawks (11-4) got the better of the rest of the Vikings (11-5) as well, coming away with a 9-0 win.

Sawyer, who now sports a 75-17 career singles record, and freshman Aileen MacDonald (Mundelein HS, Mundelein, Ill.) dropped their match at first doubles to Alexandra Bayliss and Jackie Vitale 8-5. At number two doubles, Divelbiss and Lauren Aguilar bested seniors Krista Panko (Geneva HS, Geneva, Ill.) and Meghan Wethington (Geneseo HS, Geneseo, Ill.) 8-1. Coach Jon Miedema's number three doubles team of sophomore Miranda Pence (Oswego HS, Oswego, Ill.) and junior Caitee Margenthaler (Moline HS, Moline, Ill.) dropped an 8-4 decision to the Whitewater duo of Megan Kasten and Erika Williams.
In singles play, Bayless defeated Panko at number two, 6-1, 6-0. Vitale was a 6-4 6-1 winner over MacDonald at number three and Kasten beat junior Emily Kaczamrek (Glenbard South HS, Lombard, Ill.) 6-1, 6-2 at number four. Aguilar bested Pence love and one at number five and at sixth singles, Kelly Foster downed Wethington 6-2, 6-2.
Whitewater 9, Augustana 0
Singles
#1 Sydney Divelbiss, WW, def. Kim Sawyer, AC, 6-4, 6-2
#2 Alexandra Bayliss, WW, def. Krista Panko, AC, 6-1, 6-0
#3 Jackie Vitale, WW, def. Ali MacDonald, AC, 6-4, 6-1
#4 Megan Kasten, WW, def. Emily Kaczmarek, AC, 6-1, 6-2
#5 Lauren Aguilar, WW, def. Miranda Pence, AC, 6-0, 6-1
#6 Kelly Foster, WW, def. Meghan Wethington, AC, 6-2, 6-2
Doubles
#1 Bayliss/Vitale, WW, def. Sawyer/MacDonald, AC, 8-5
#2 Divelbiss/Aguilar, WW, def. Panko/Wethington, AC, 8-1
#3 Kasten/Williams, WW, def. Pence/Caitee Margenthaler, AC, 8-4