March 8, 2013
Rindone, Patton make 400 final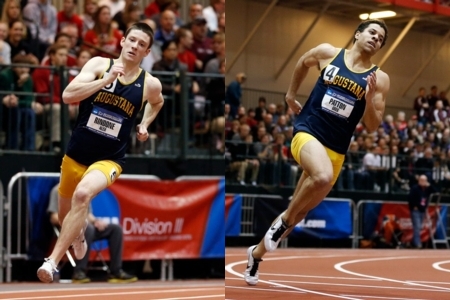 Senior Alex Rindone (L) will take the fastest time in the 400 into today's final at the NCAA Division III indoor track & field national meet. He ran a school and field house record of :48.46 in Friday's qualifying round. Senior Greg Patton (R), this year's CCIW 400-meter champion, also made the finals with a time of :49.17. Both will compete with the Viking 4x400 relay team as well.
NAPERVILLE, Ill. - Senior sprint standouts Alex Rindone (Marmion Academy, Geneva, Ill.) and Greg Patton (Bloomington HS, Bloomington, Ill.) both made the final of the 400 at the 2013 NCAA Division III indoor track & field championship on Friday, March 8. The championship meet, which is being held at North Central in Naperville, Illinois, will conclude on Saturday, March 9 and Rindone and Patton will be busy young men.
They will run in the 400 meter final at 2:20 p.m. and at 4:05 p.m. they will join with sophomore teammates Keith Cline (Byron HS, Byron, Ill.) and David Voland (Batavia HS, Batavia, Ill.) in the final of the 1600 relay. The quartet of Patton, Rindone, Cline and Voland have the fastest time in NCAA Division III heading into the final. That bunch ran 3:16.88 just one week ago at the University of Wisconsin-Stevens Point.
On Friday, Rindone set a new fieldhouse record at North Central with his time of :48.46 and he will take the fastest time among all qualifiers into this afternoon's final. He won the first heat of the day and in the process broke his own school record of :48.85.

Patton is the sixth fastest qualifer heading into the final with his time of :49.17. He placed third in the third heat as Aric Hoeschen of Wisconsin-LaCrosse (:48.66) and Cody Prince of Wisconsin-Eau Claire (:48.97) finished ahead of him. Patton won the College Conference of Illinois & Wisconsin championship earlier this season with a time of :49.27 while Voland was right behind him with a time of :49.33.