March 8, 2013
Augustana beats Hope 20-4 in 2013 home opener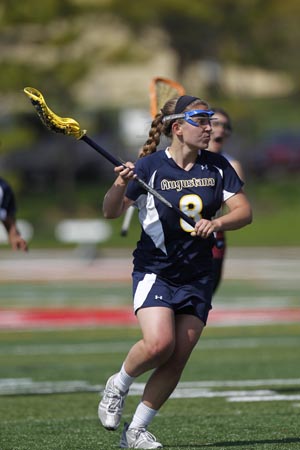 Sophomore Kelly Stelzer had a game-high five goals Friday night as Augustana won its 2013 home opener 20-4 over Hope at Thorson-Lucken Field.
ROCK ISLAND, Ill. - Augustana had eight players score, including four who found the net at least three times Friday, as the Vikings opened the home portion of the 2013 schedule with a 20-4 win over Hope at Thorson-Lucken Field. Coach Sara Tisdale's squad evened its record at 2-2 with the win, while the Dutch fell to 0-1, dropping the first game in the history of the program.

Freshman Kaylee Nolan (Sandburg HS, Orland Park, Ill.) and sophomore Christian Letmanksi (Glenbard West HS, Wheaton, Ill.) each scored twice as the hosts jumped out to a 6-0 lead less than nine minutes in. Freshman Rebecca Pollard (Westfield HS, Carmel, Ind.) and sophomore Kelly Stelzer (Wheaton Warrenville South HS, Wheaton, Ill.) added the other two goals and freshman Kendall Maduro (Neuqua Valley HS, Naperville, Ill.) handed out two assists.
Maddie Ferguson, with the help of a Molly Greenfield assist, scored the first goal in Hope program history with 20:17 left in the first half. However, the Vikings responded with six straight, including two by Pollard, to go up 12-1. The Dutch's Linnea Ridlen scored with 13 seconds left to make it 12-2 at the half.
Hope's Katie Sabourin scored less than three minutes in the second stanza to make it 12-3, but sophomore Kelly Molloy (Glenbard West HS, Glen Ellyn, Ill.) answered less than a minute later to restore the double-digit lead. Stelzer scored three more times over the final 25:39 as Augustana put the game away.
Stelzer finished the evening with five goals. Letmanski and Nolan scored four each and Letmanski added an assist. Pollard found the net three times herself and added a pair of assists. Molloy, sophomores Allie Roehrenbeck (Columbus Academy, Gahanna, Ohio) and Alex Palmisano (Wheaton Warrenville South HS, Wheaton, Ill.) and freshman Ryen Merhar (Oak Park-River Forest HS, River Forest, Ill.) accounted for the other four Viking goals. In addition to Pollard and Maduro, sophomore Hilary Kargl (Sacred Heart Academy, Louisville, Ky.) handed out two assists.
Sophomore Sarah Osier (Naperville Central HS, Naperville, Ill.) recorded five saves in 43 minutes before turning over goalkeeping duties to freshman Jenna Hofmann (Columbine HS, Littleton, Colo.).
The hosts ended the night with a 38-13 edge in shots and 32-10 in shots on goal. The Vikings also had a 19-10 advantage in ground balls and controlled 19 of 26 draws. Augustana committed 21 turnovers to 26 for Hope.
The Vikings are back at Thorson-Lucken Field on Saturday, March 9, hosting Loras at 1:00 p.m. That game was originally scheduled to be played in Dubuque, Iowa, but was moved to Rock Island because of snow.