March 8, 2013
Vikings defeat Hendrix 13-4 in home opener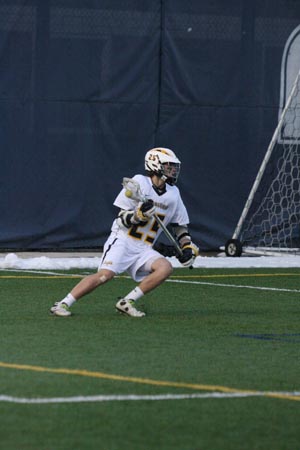 Freshman Scott Davis scored six goals and added an assist Friday night as Augustana won its 2013 home opener 13-4 over Hendrix at Thorson-Lucken Field.
ROCK ISLAND, Ill. - Freshman Scott Davis (St. Thomas Aquinas HS, Overland Park, Kan.) had six goals and an assist Friday night as Coach Kyle Hart's Augustana lacrosse team won its 2013 home opener 13-4 over Hendrix at Thorson-Lucken Field. The Vikings outscored the visitors 7-0 in the second half to break open a close game and improve to 2-2 on the year. The Warriors fell to 2-4.

Davis scored Augustana's first two goals on assists from classmate Kevin Gleason (Loyola Academy, Chicago, Ill.) and sophomore Keegan Horack (Illinois Valley Central HS, Chillicothe, Ill.), but Zachary Baier scored off a Cameron Millstone helper with Hendrix a man up to give the visitors a 3-2 lead at the end of one period.
Just over a minute into the second, Davis scored with the help of an Austin Marrison (Palatine HS, Palatine, Ill.) assist to even the score at 3-3. That started a run which saw the Vikings outscore Hendrix 11-1 over the final three periods. Davis added an unassisted goal with 10:10 left in the opening half to give the hosts the lead for good. Sophomore Vincent Giglierano (Archbishop Mitty, San Jose, Calif.) scored two unassisted goals as Augustana took a 6-4 lead to the locker room.
Davis scored the Vikings' first and last goals of the second half as well. Sophomore Jesse Nagelberg (St. Charles East HS, St. Charles, Ill.) found the net three times in the second half and Gleason added two goals and two more assists.
Sophomore Cody Burgdorff (Peak to Peak HS, Lafayette, Colo.) played just over 58 minutes in goal and recorded eight saves. Sophomore Ryan Nakamoto (Naperville Central HS, Naperville, Ill.) won 11 of 19 faceoffs and led the Vikings with 10 ground balls.
Augustana outshot the Warriors by a 46-25 margin, including 26-13 in shots on goal. The hosts also held advantages in ground balls (44-39) and turnovers, committing 21, to 24 for Hendrix.
The Vikings are back at Thorson-Lucken Field on Sunday, March 17, hosting Albion in a 3:00 p.m. contest.