Chief Justice Kilbride to deliver graduation address
March  08, 2013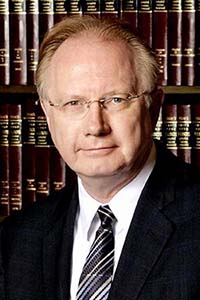 Thomas L. Kilbride
Illinois Supreme Court Chief Justice Thomas L. Kilbride will deliver the commencement speech at Augustana College's 153rd Commencement Convocation on Sunday, May 19, at 3 p.m. at the i wireless Center (1201 River Dr., Moline, Ill.). The public is welcome and encouraged to attend.
The Rev. Michael L. Burk, Bishop of the Southeastern Iowa Synod of the Evangelical Lutheran Church in America, will deliver the baccalaureate sermon at 10 a.m. on Sunday, May 19, in Centennial Hall (3703 7th Ave.)
The chief justice has close family connections to Augustana College. His wife Mary is a mathematics instructor at Augustana. Their daughter, Colleen, is a 2009 graduate and their daughter, Clare, is a candidate for graduation with the Class of 2013.
Chief Justice Kilbride has lived in the Quad Cities since he began practicing law in 1981. He began his legal career as a staff attorney for seven years with Prairie State Legal Services. Chief Justice Kilbride then went into private practice with Klockau, McCarthy, Ellison & Marquis, before starting his own solo practice firm in 1993. He was elected to the Illinois Supreme Court in 2000 and retained to a second term in 2010. His colleagues on the Illinois Supreme Court elected him Chief Justice in October 2010.
He was honored by the Illinois News Broadcasters Association with their 2012 Illinoisan of the Year Award for his efforts to promote transparency in the judicial branch, particularly for initiating a pilot program to allow media cameras in Illinois trial courts for the first time.
Chief Justice Kilbride recommended the establishment of the newly created Illinois Supreme Court Access to Justice Commission, and he was instrumental in the formation of a Special Committee on E-Business. He has personal interest in increasing civic education in Illinois schools. He has traveled to schools throughout the Third Judicial District, explaining to elementary, high school, and college students how the Illinois judicial system works, and he also has led efforts to have the Illinois Third District Appellate Court hear cases at colleges and universities in the Third District, including Augustana College.
The baccalaureate speaker, Rev. Burk, was born in Grinnell, Iowa. Rev. Burk is a graduate of Wartburg College, Waverly, Iowa, and Wartburg Theological Seminary, Dubuque, Iowa. He earned a doctorate in American studies from the University of Iowa, Iowa City. Ordained in 1986, Rev. Burk oversaw the church-wide "Renewing Worship" project in 2001. He and his wife Diane live in Mount Prospect, Ill., and are parents of three children.
Sam Schlouch
Senior Communication Director
(309) 794-7833
samschlouch@augustana.edu