March 7, 2013
Pam Tyska named interim head coach for women's golf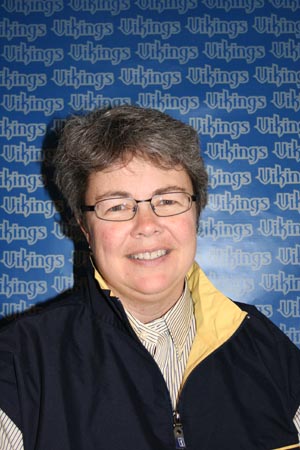 After serving as the head coach at Northern Illinois for the past 26 years, Pam Tyska takes over as the interim head coach for the Augustana women's golf program.
Pam Tyska has been named the interim head coach for women's golf at Augustana, it was announced by Mike Zapolski, director of athletics. Tyska replaces Ron Standley, who coached his last match as the Vikings' head coach at the College Conference of Illinois & Wisconsin championship in October, 2012. Standley had been the head coach at Augustana since the 1999-00 season.

"I am absolutely elated that Pam will be serving as our interim women's golf coach during the upcoming spring season," said Zapolski. "Our student-athletes will have the opportunity to work with a highly accomplished coach with an impressive resume. With 16 student-athletes on our women's golf roster, including 15 underclassmen, it was imperative for us to maintain the spring portion of our schedule. Pam will play an important role in the weeks ahead, and I appreciate her willingness to serve in this capacity at Augustana."
Tyska comes to Augustana from Northern Illinois University, where she served as the women's golf coach for 26 years. In her time at NIU, she led the Huskies in 245 tournaments where they consistently finished near the top of the leader board. In fact, Tyska led NIU to 19 tournament championships, 28 runner-ups, and 97 top-five finishes.
Tyska not only helped NIU golfers achieve success on the course, but in the classroom as well. Since she arrived in DeKalb, NIU has had consistent representation on the National Golf Coaches Association Academic All-America honor roll. A total of 15 Huskies women's golfers have made the list, which requires a minimum 3.50 grade point average. Tyska's NIU teams have also recorded perfect scores of 1,000 in the NCAA's Academic Progress Rate Reports on many occasions.
Tyska has raked in a lot of hardware in her career. In 1991, she was named the Midwest Region Coach of the Year by NGCA. The LPGA also recognized her as the Midwest Region Coach of the Year in both 1994 and 1996. She has also sat on many committees in her career, including the NCAA Midwest Regional Selection Committee, the NGCA Awards Committee, and the NGCA Board of Directors.
Prior to her coaching career at NIU, Tyska was an assistant golf professional at St. Charles Country Club. She also served as a rules official and assistant tournament director of the FUTURES Ladies Professional Golf Tour.
A 1983 graduate of Illinois State, where she received her undergraduate degree in physical education with a coaching emphasis, Tyska was a four year letter winner in golf at Illinois State University. During her playing days, she gained Illinois Association of Intercollegiate Athletics for Women honors three times.
- Story written by student assistant Paul Hurd