March 6, 2013
Loras game moved to Thorson-Lucken Field on March 9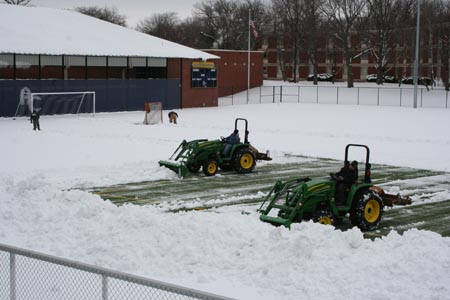 Crews work at clearing Thorson-Lucken Field of snow on Wednesday, March 6. The Vikings have an extra home game because of the effort as the scheduled match with Loras, which was to be played on Saturday, March 9 in Dubuque, Iowa, will now be held at Thorson-Lucken Field at 1:00 p.m.
An early-spring snowstorm has altered the Augustana women's lacrosse schedule a bit. The Vikings, currently 1-2 on the season, will end up with an extra home game because of the storm that swept through the Midwest earlier this week.

Augustana was scheduled to open the home portion of their 2013 schedule on Friday, March 8 against Hope at 7:30 p.m. before heading up to Dubuque, Iowa on Saturday, March 9 for a 2:00 p.m. match against Loras. The Hope game will stay as scheduled but the Vikings will now host Loras at 1:00 p.m. on Saturday because the Duhawks were unable to clear the snow from their field.
Workers started the snow removal project at Thorson-Lucken Field on the Augustana campus early Wednesday, March 6 and the field should be available for practice on Thursday, March 7.
Second year head coach Sara Tisdale's crew opened the season last week with a three-game swing to California. The Vikings lost to Redlands on February 21 by a score of 18-6 in Redlands, California and then fell to Occidental 16-4 in Los Angeles on February 23. Augustana picked up its first win of the season on February 25 with a 17-11 win over Whittier in Whittier, California.