March 5, 2013
Osier named Player of the Week in MWLC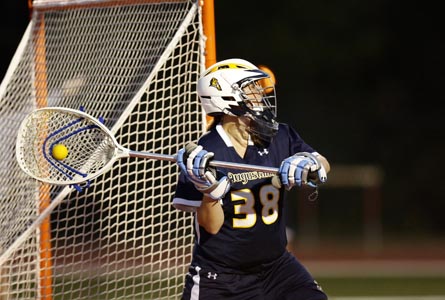 Sophomore Sarah Osier was named the "Player of the Week" in Midwest Women's Lacrosse Conference on Tuesday, March 5 after her performance on the Vikings' spring break trip to California.
Augustana sophomore Sarah Osier (Naperville Central HS, Naperville, Ill.) has been named the "Player of the Week" in the Midwest Women's Lacrosse Conference. She was instrumental in helping the Vikings defeat Whittier 17-11 on Monday, February 25 in Whittier, California.
Osier made eight saves and gave up just four goals in 30 minutes of action against Whittier. The win gave Augustana its first victory of the young season.
Last season, Osier helped lead the Vikings to a 15-3 record in their inaugural season. She started 16 of the 18 games and allowed only 8.28 goals per game, which was the 20th best goals-against-average in the nation. She also compiled 139 saves and had a save percentage of .491, which was the 27th best mark in the country, in almost 1044 minutes of playing time.
A psychology major, Osier is the daughter of Jerry & Kari Osier of Naperville, Illinois.
-Story written by student assistant Paul Hurd