March 2, 2013
Burns qualifies for NCAA national meet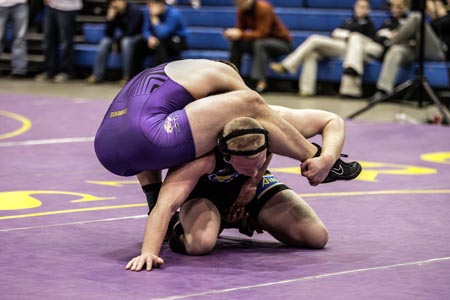 Senior Matt Burns works against Stephan Birt of Loras on Saturday, March 2 at the NCAA Central Regional in Dubuque, Iowa. Burns pinned Birt at 6:45 of this match and eventually went on to finish third and qualify for the NCAA Division III national tournament.
DUBUQUE, Iowa - Senior Matt Burns (Naperville Central HS, Naperville, Ill.) qualified for the NCAA Division III national wrestling tournament with a third place finish in the 174 pound weight class on Saturday, March 2 in Dubuque, Iowa at the Central Regional. Burns will now compete at the NCAA national tournament on March 15-16 at the Cedar Rapids Ice Arena in Cedar Rapids, Iowa.

Augustana placed seventh in the team standings on Saturday with 51 points. Wartburg won the title with 161 points while Luther took second with 122.5 and Dubuque was third with 110.5. Coe (89.5) and Loras (74.5) were fourth and fifth, respectively. Cornell (72), Augustana (51.0), Central of Iowa (50.5), Buena Vista (24), Simpson (17.5) and Knox (3.5) rounded out the 11-team field.
Burns had to do it the hard way on Saturday as he lost his first match by a score of 11-4 to Ethan Ball of Coe. He received a bye in the first round of the wrestlebacks and then pinned Greg Barner of Central in 1:38. He followed that with a pin at 6:45 of his match with Stephen Birt of Loras. In the all-important third place match he beat Derek Mizaur of Dubuque 4-0 to stamp his ticket to the national meet. Burns is now 34-9 on the season.
Sophomore John Schraidt (Riverside-Brookfield HS, Riverside, Ill.) placed fifth at 285 pounds. He won his first match with a pin at 1:35 over Tony Saucedo of Simpson. He then lost a 1-0 heart-breaker to Ryan Fank of Wartburg in the quarterfinals. Schraidt stayed alive with a 3-1 sudden victory decision over Jake Crawford of Central before falling to Nick Pearch of Luther 3-2. In the fifth place match Schraidt beat Alex Burkle of Coe to finish the year 32-11.
Freshman Jimmy Panozzo (Carl Sandburg HS, Orland Park, Ill.) took sixth at 125 pounds and wound up 27-14 for the year. He lost to Nick Scheffert of Luther 8-2 in his first match and then beat Branden Schultz of Buena Vista 5-1 before losing to Jimmy Gotto of Coe 7-3 and falling 3-2 to Nic Rivera of Dubuque in the fifth place match.
Junior Jacob Scholten (Rockford HS, Grandville, Mich.) was also sixth at 133 pounds. Scholten started the day with a 15-2 win over Sam Reichenbacher of Simpson before dropping a 2-0 decision to Nick Steger of Loras in the quarterfinals. He beat Aaron Anderson of Central 3-0 in the wrestlebacks but dropped his next match 3-0 to Evan Obert of Luther. In the fifth place bout he fell to Tyler Endress of Coe 10-2. Scholten ended the year 36-9 overall.