March 2, 2013
1600 relay runs nation's fastest time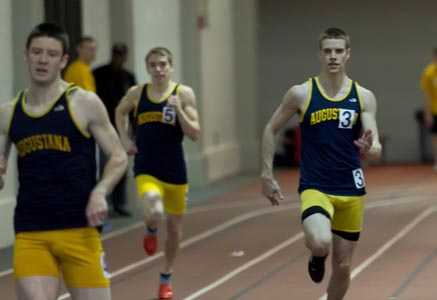 Three quarters of Augustana's school record setting 1600 relay team are shown here in action from a meet earlier this year. Alex Rindone (left), Keith Cline (center) and David Voland (right) combined with senior Greg Patton (not pictured) to run 3:16.88 at the Pointer Qualifier in Stevens Point, Wisconsin on Saturday, March 2. That time not only set a school record but is also the fastest time in NCAA Division III this season.
STEVENS POINT, Wis. - Augustana's 1600 relay saved the best for last on Saturday, March 2 at the Pointer Qualifier in Stevens Point, Wisconsin. The Vikings not only broke the existing school record but also turned in the fastest time in the nation heading into the NCAA Division III national meet, which will be held on March 8-9 in Naperville, Illinois.

The quartet of senior Greg Patton (Bloomington HS, Bloomington, Ill.), senior Alex Rindone (Marmion Academy, Geneva, Ill.), sophomore Keith Cline (Byron HS, Byron, Ill.) and sophomore David Voland (Batavia HS, Batavia, Ill.) won the 1600 relay with a time of 3:16.88, breaking their own best of 3:18.64 set on February 1 in Whitewater, Wisconsin. Their performance also bettered the previous school record of 3:18.34, set by Evan Holschbach, Kyle Ekberg, Nick Borchert and Ted McMillan in 2009.
Voland and Patton warmed up for the outstanding performance in the relay by competing in the open 400 earlier in the day. Voland placed third with a time of :49.38 while Patton took fifth in :49.59.