March 1, 2013
Capital hands Vikings their first loss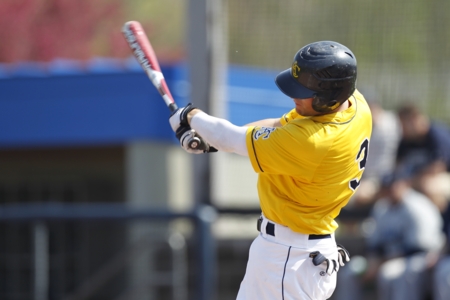 Senior outfielder Mark VanNatta had a two-run home run Friday, but Augustana dropped a 4-2 decision to Capital in Auburndale, Florida. The Vikings are now 7-1 on the season.
AUBURNDALE. Fla.-After seven straight wins to open the season, the Augustana baseball team suffered its first loss Friday, dropping a 4-2 decision to Capital. The Vikings complete the first portion of their Florida schedule with a 7-1 record. The Crusaders improved to 4-3 with the win.

Starters Ben Heaton (Bloomington Central Catholic HS, Heyworth, Ill.) of Augustana and Justin Hoying of Capital were locked in a pitchers' duel for seven innings. The only score to that point came in the top of the fourth, when the Crusaders pushed across a run without the benefit of a hit. Heaton issued a leadoff walk to Nate Campbell, who was then sacrificed to second by Brian Wyer before stealing third. He scored on Anthony Calabrese's ground out to second.
The Vikings threatened in the third, when Tyler Bernal (La Salle-Peru HS, Peru, Ill.) delivered a two-out triple and the fourth, when Grant Stewart (Sterling HS, Sterling, Ill.) was hit by a pitch with two outs and Kyle Lenihan (Romeoville HS, Romeoville, Ill.) followed with a single. However, neither situation resulted in a run. Augustana left a runner stranded in scoring position in the fifth as well.
Hoying left after seven two-hit, shutout innings, giving way to Michael Flegal out of the Capital bullpen. Heaton finished the eighth inning trailing only 1-0 before the Crusaders got to him in the ninth. Wyer singled, stole second and was sacrificed to third by Calabrese. Matt Carnahan and Brandon Natalie followed with singles, to make it 2-0 and knock Heaton from the game. Kirby Boehm delivered a two-run single off reliever Brandon Bollman (Lincoln-Way East HS, Frankfort, Ill.) to give Capital a 4-0 lead.
Augustana didn't go quietly in the bottom of the ninth. Stewart led off with a single and one out later Mark VanNatta cut the deficit in half with a two-run home run. However, Flegal induced a pair of fly outs to end the threat and pick up his first save of the season.
Heaton took the loss to fall to 1-1 this year. He went 8 1/3 innings, allowing four runs on five hits. He walked three and struck out five. Bernal had two of the Vikings' five hits on the day. Hoying picked up the win in his first decision of the season.
The Vikings will head back to the Sunshine State for four games beginning with a doubleheader against Greenville on March 15.