March 2, 2013
Vikings can't hang on against Huntingdon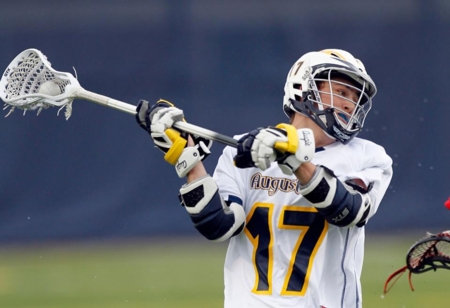 Sophomore Tim Fennelly had a goal and two assists Saturday, but the Vikings fell 10-9 to Huntingdon in Montgomery, Alabama.
MONTGOMERY, Alabama- Despite taking a 6-3 halftime lead, Coach Kyle Hart's Augustana lacrosse team couldn't quite hang on, falling 10-9 at Huntingdon Saturday afternoon. The loss drops the Vikings to 1-2 on the season, while the hosts improve to 3-3.

With less than a minute remaining and Huntingdon attempting to run out the clock with a 10-9 lead, sophomore defender Jeremy Gottardo (Jacobs HS, Algonquin, Ill.) knocked the ball loose and freshman Daniel Fulton (Denver East HS, Denver, Colo.) scooped it up to give the Vikings one last chance. However, after calling a timeout with 13 seconds left, they could get off only a rushed Jesse Nagelberg (St. Charles East HS, St. Charles, Ill.) shot which went wide at the final horn.
Freshman Kevin Gleason (Loyola Academy, Chicago, Ill.) scored two goals each in the first and second quarters to help stake Augustana to a 6-3 lead at the half. Jakob Works gave the hosts a 1-0 lead just over a minute in, but Gleason tied with the Vikings a man up at 9:24. Just over a minute later, he added an unassisted goal to give the visitors a 2-1 lead.
The teams traded goals to end the first period and again to open the second. For the Vikings, sophomore Tim Fennelly scored first with the help of a Nagelberg assist and then picked up an assist himself as Brad Anderson (Arrowhead HS, Hartland, Wis.) scored with Augustana a man up. The Hawks' Brandon Sewell and Works, respectively, answered each of those goals and the Vikings led 4-3. Gleason scored with 9:06 left in the half with an assist from Fennelly and added an unassisted goal at the 6:53 mark to put the visitors up by three at the break.
Just over a minute into the third period, Augustana freshman Scott Davis (St. Thomas Aquinas Academy, Overland Park, Kan.) extended the lead to 7-3 with an unassisted goal, his fourth of the season. However, from that point on the Vikings struggled to score as Huntingdon goalkeeper Fabien Gutierrez made some outstanding saves on close-range shots, particularly in the final period.
The Hawks scored four straight goals in less than a 10-minute span to even the score. Mike Kazmarik finally tied it at the 3:11 mark of the third period on an assist from Sewell.
Less than a minute into the final period, Nagelberg used a Gleason assist to put the Vikings back ahead with his fourth goal of the year. However, Works tied it two minutes later and Sewell gave the Hawks their first lead since 1-0, finding the net at the 8:33 mark. Chris Hager's (Exeter Academy, Newfields, N.H.) third goal of the season, coming on an Evan Chikeles (Hoffman Estates HS, Hoffman Estates, Ill.) helper with 3:26 left, tied it one last time, but Works scored the game winner at the 1:56 mark.
Gleason continued his early season scoring tear. His four goals give him eight in the Vikings' first three games. Fennelly added a goal and two assists on the day. Sophomore Cody Burgdorff (Peak to Peak HS, Lafayette, Colo.) made 10 saves in goal.
Augustana held slight advantages in shots (36-32) and shots on goal (21-20) as well as leading 46-32 in ground balls and 14-9 in faceoffs won. The hosts were called for nine penalties to just two for the Vikings and committed 24 turnovers to 21 for Augustana.
Hart's club will play its home opener on Friday March 8 against Hendrix. That game is scheduled for 5:00 p.m. at Thorson-Lucken Field.