March 1, 2013
Rally after doubles lifts men's tennis past Concordia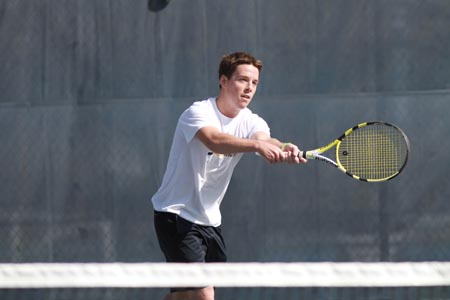 Junior Grant Wick's 6-2; 6-2 win over Zach Baggar at number six singles helped Augustana eras a 2-1 deficit after doubles and rally for a 6-3 victory over Concordia-Moorhead on the final match of the spring break trip to Orlando, Florida. The Vikings are now 7-3 on the season.
ORLANDO, Florida - Bouncing back from a 2-1 deficit after doubles, the Augustana men's tennis team defeated Concordia-Moorhead 6-3 on Friday, March 1 in Orlando, Florida. The victory put the finishing touches on the spring trip for head coach Jon Miedema's Vikings, who went 3-3 on the venture to Florida and are now 7-3 overall.

Augustana suffered defeats at numbers one and two doubles but salvaged a win at number three when junior Kevin Bayles (Homewood-Flossmoor HS, Flossmoor, Ill.) and senior Jack Cullen (Edgewood HS, Madison, Wis.) defeated Austin Storm and Zach Riggar at number three doubles by a score of 8-4.
The Vikings won five of the six singles matches to secure the victory.
Sophomore Lawrence Palmer (Schiller International School, El Prat de Llobregat, Spain) beat Brian Olson 6-2; 6-0 at number one while his brother, senior Will Palmer (Schiller International School, Leicester, England) defeated Peter Dahlberg 7-6; 6-3 at number three.
Senior Andy Wall (Notre Dame Academy, DePere, Wis.) beat Nick Moe 6-1; 6-4 at number four and Bayles handled Zach Zitur 6-2; 6-1 at number five. Junior Grant Wick (Windsor HS, Fort Collins, Colo.) beat Zach Baggar 6-2; 6-2 at number six.
Augustana will now take on Grinnell and Nebraska Wesleyan on Saturday, March 9 in Grinnell, Iowa.