March 1, 2013
Women wrap up spring trip with 8-1 win over Cobbers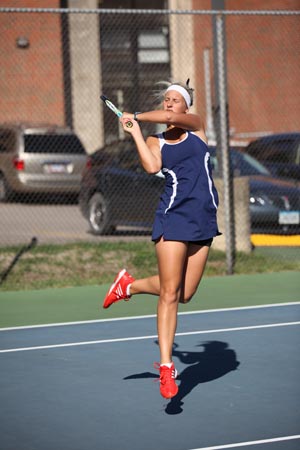 ORLANDO, Fla. - Coach Jon Miedema's Augustana women's tennis team completed a successful spring trip, defeating Concordia-Moorhead 8-1 Friday. The Vikings won three of four dual meets on the trip and are now 11-4 on the year.

Augustana's number one doubles team of junior Kim Sawyer (Batavia HS, Batavia, Ill.) and freshman Aileen McDonald (Mundelein HS, Mundelein, Ill.) got the Vikings off on the right foot, taking care of the Cobbers' Chelsie McGraw and Olivia DeLeon 8-2. At second doubles, seniors Krista Panko (Geneva HS, Geneva, Ill.) and Meghan Wethington (Geneseo HS, Geneseo, Ill.) scored an 8-4 decision over Taylor Peterson and Brittany Glatt. Augustana entered singles play with a 3-0 advantage thanks to an 8-6 win by Caitee Margenthaler (Moline HS, Moline, Ill.) and Cailee Winter (Downers Grove South HS, Downers Grove, Ill.) over Karlyn Davies and Mo Sawatzke at third doubles.

Sawyer bested McGraw love and three at number one singles. The Vikings won 6-1, 6-0 at both second and third singles. At number two, it was Panko defeating DeLeon and at number three, MacDonald beat Peterson. Sophomore Miranda Pence (Oswego HS, Oswego, Ill.)scored a 6-4, 6-4 win over Glatt at number four and freshman Lauren Kaczmarek (Glenbard South, Lombard, Ill.) was a 5-7, 7-6, 10-4 winner over Davies at number five. Concordia picked up its lone win at sixth singles, where Sawatzke beat freshman Madeline Voss (Lincoln-Way East HS, Frankfort, Ill.) 7-6, 2-6, 10-8.
Next up for the Vikings is a March 9 trip to Milwaukee, Wisconsin, where they'll face Wisconsin-Whitewater in a dual meet starting at noon.