February 28, 2013
Davis, bats take care of Rose-Hulman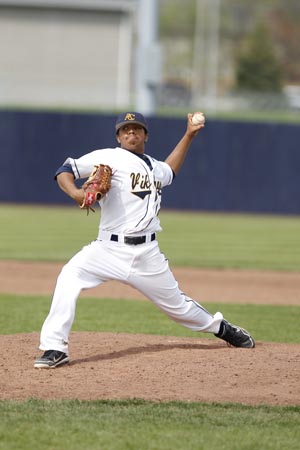 Sophomore lefty Seth Davis went eight innings and fanned 11 as Augustana defeated Rose-Hulman 12-2 Thursday in Auburndale, Florida. The Vikings stayed unbeaten at 7-0 on the year.
AUBURNDALE, Fla.-Sophomore southpaw Seth Davis (Mullen HS, Aurora, Colo.) went eight strong innings and Augustana bats provided him with an eight-run fourth inning Thursday as the Vikings defeated Rose-Hulman 12-2 at Chain of Lakes Park. Augustana improved to 7-0 on the season and the Engineers dropped to 1-3 in a game that pitted two teams receiving votes in the D3baseball.com poll.

Davis faced the minimum through four innings, allowing a two-out single to Nick Pilipovich in the second before picking him off first to end the frame. The Engineers' Bobby Newman touched Davis for a two-out single in the fourth, but left fielder Tyler Bernal (La Salle Peru-HS, Peru, Ill.) and shortstop Jeremy Juhl (Glenbard East HS, Lombard, Ill.) cut him down trying to stretch it into a double.
Rose-Hulman starter Matt Green was coasting along until the Vikings battered him in the top of the fourth. Seniors Kurt Schmidt (Grayslake Central HS, Grayslake, Ill.) and Grant Stewart (Sterling HS, Sterling, Ill.) had back-to-back singles to start the inning and Mark VanNatta (Alleman Catholic HS, Moline, Ill.) drew a one-out walk to load the bases. Freshman Trace Gingerich (Sherrard HS, Sherrard, Ill.) drove in the game's first run when he reached on an error. A walk to sophomore catcher Nick Tenerelli (Downers Grove South HS, Downers Grove, Ill.) and a wild pitch allowed the next two Viking runs to score. Bernal knocked Green from the game with an RBI single that put Augustana up 4-0.
Reliever Andrew Stull didn't fare much better, as Jacob Van Duyne (Wilmington HS, Wilmington, Ill.) immediately touched him for an RBI double and Juhl made it 6-0 with an RBI ground out. A Schmidt double and a single by Stewart drove in the final two runs of the inning.
Three hits, a hit batter, an error and a passed ball led to three more runs in the Viking fifth. Juhl delivered an RBI single in the frame. A Kyle Lenihan (Romeoville HS, Romeoville, Ill.) double and Tenerelli's RBI single in the sixth accounted for Augustana's final run.
Davis pitched out of a no-out, bases-loaded jam in the fifth before cruising through the sixth and seventh. The Engineers finally got to him on Donnie Waters' two-out, two-run double in the eighth. Davis finished the inning before giving way to freshman Darwin Townsend (Libertyville HS, Libertyville, Ill.), who set Rose-Hulman down without incident in the ninth.
Davis (1-0) scattered eight hits and fanned 11 while issuing just two walks. Schmidt led the Augustana attack with three hits in four at-bats. All nine Viking starters had at least one hit on the day. Eight scored at least one run and seven drove in one or more.
Coach Greg Wallace's club closes out the first leg of its trip to Florida with a Friday, March 1 contest against Capital at 10:00 a.m.