February 26, 2013
Hintz, Wiersema fire shutouts in Florida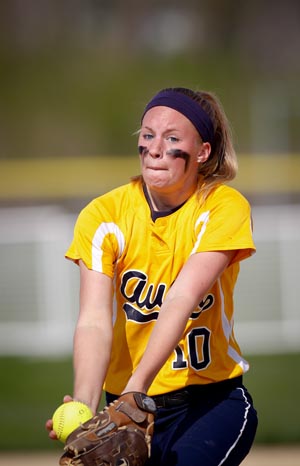 Junior right-hander Sarah Hintz fired a one-hit shutout Tuesday, striking out 12 in the process, as Augustana moved to 5-1 this season with a 2-0 win over Alma.
CLERMONT, Fla.-Junior Sarah Hintz (Le Roy HS, Le Roy, Ill.) and sophomore Christie Wiersema (Morrison HS, Morrison, Ill.) both spun complete game shutouts Tuesday, allowing a combined total of just three hits as Augustana defeated SUNY-Canton 16-0 and Alma 2-0. The two wins upped the Vikings' record to 5-1 on the young season.

Augustana 16, SUNY-Canton 0
12 Augustana runs in the final two innings allowed the team to end its first game of the day early. Leading 4-0 after three, the Vikings put up a four-spot in the fourth and added eight runs in the fifth to end the contest via the mercy rule. Augustana moved to 4-1 with the win, while SUNY-Canton dropped to 0-4.
In her first starting assignment in the circle this year, Wiersema allowed just two baserunners, giving up a second-inning single and a double in the fifth. She also helped her own cause with a double, three runs scored and three driven in.
Sophomore Jamie Rehmert (Sterling HS, Sterling, Ill.) got the Vikings on board in the top of the first with a three-run double to left. Rehmert's big hit followed singles by sophomores Jenna Teson (Jacobs HS, Algonquin, Ill.) and Chelea Lavin (Downers Grove South HS, Downers Grove, Ill.) and a walk to Wiersema.
Augustana added a run in the second. Teson drew a two-out walk, stole second and came around to score on a single to center by senior Jenna Nelson (Orion HS, Orion, Ill.).
Teson also started the four-run Viking fourth with a one-out single. Nelson singled in a pair of runs in the frame and Rehmert drove one in with a ground out.
The Vikings put the game away with eight in the fifth. Wiersema delivered a three-run double to center, Rehmert drove in her fifth run of the contest with a double to left and reserves Amanda Johnson (York HS, Elmhurst, Ill.), Miranda Hiemer (Nazareth Academy, Chicago, Ill.) and Alexandra Nusz (Stark County HS, Wyoming, Ill.) also knocked in runs with singles. Hiemer's hit to right field drove in two.
Rehmert, Nelson, Teson, Lavin and Hiemer led a 15-hit Viking attack with two safeties apiece. Teson and Wiersema each scored three times and Nelson and Wiersema each had three RBI in addition to Rehmert's five.
Augustana 2, Alma 0
Hintz (2-1) was dominant in the Vikings' second game of the day, fanning 12 Scots and issuing just one walk, to Kayla Smart in the second inning. The only hit she allowed was a Smart single with one out in the seventh inning. The only other Alma base runner reached on an Augustana error in the fifth.
The Vikings jumped out in front in the top of the first. Sophomore Laura Behnke (Wheaton St. Francis HS, Roselle, Ill.) led off with a triple to left and scored the game's first run a Teson infield hit.
A third-inning leadoff double from junior Chaney Tambling (Dwight HS, Dwight, Ill.) set up Augustana's second score. Freshman Jennifer Gray (Lincoln-Way East HS, Mokena, Ill.) pinch ran for Tambling and moved to third on a Krista Watson (Coal City HS, Coal City, Ill.) sacrifice. She scored what would be the final run of the game on Behnke's single to center.
Behnke and Teson each had two of seven Viking hits. Augustana left just two runners stranded in the contest.
The Vikings improved to 5-1 on the year, while Alma fell to 3-3.
In three starts this season, Hintz has yet to allow an earned run. She's fanned 29 and walked only two in19 innings and opponents are hitting just .104 against her.
Play continues in Florida on Wednesday, February 27, with coach Kris Kistler's club facing Immaculata at 10:00 a.m. and Rochester Institute of Technology at noon.