February 25, 2013
Strong second half keys first victory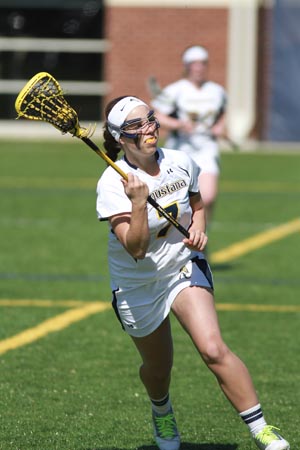 Sophomore Christina Letmanski led Augustana with five goals, including four in the second half, as the Vikings defeated Whittier 18-10 on Monday, February 25 in Whittier, California.
WHITTIER, Calif. - A dominating second half, keyed by four Christina Letmanski (Glenbard West HS, Wheaton, Ill.) goals, helped Augustana secure its first women's lacrosse victory of the 2013 season. The Vikings defeated Whittier 18-10 on Monday, February 25 in Whittier, California.

After dropping the first two games of the year by 12 goals each (18-6 to Redlands on Feb. 21 and 16-4 to Occidental on Feb. 23), the Vikings were much sharper against the Poets. Augustana led 8-7 at halftime as freshman Emily Handrahan (Lake Zurich HS, Hawthorn Woods, Ill.) scored three goals in a row during the early going to stake her team to a 4-1 lead with less than 10 minutes gone in the game.
Whittier answered with three straight goals, the last two by Shaina Denny, to tie things at 4-4. Augustana sandwiched two goals by freshman Kendall Maduro (Neuqua Valley HS, Naperville, Ill.) around a goal by sophomore Kate Zisser (Kirkwood HS, St. Louis, Mo.) to jump back in front 7-4 with 10:03 left in the first half. The Poets scored twice to trim the margin to 7-6 at 4:33.
Letmanski, who would lead the team with five goals in the game, scored her first with 1:40 left to run the lead to 8-6 but Meesha Robinson of Whittier tallied with just 22 seconds left to make it 8-7.
Robinson scored in the first two minutes of the second half to tie the game 8-8 but from that point on the contest belonged to the Vikings. Freshman Kaylee Nolan (Carl Sandburg HS, Orland Park, Ill.) put Augustana ahead for good (9-8) with a goal at 26:25 thanks to an assist from Zisser. Nolan scored again at 23:56, this time assisted by sophomore Gina Filippo (Libertyville HS, Green Oaks, Ill.), to make it 10-8.
Then it was Letmanski's turn as she scored unassisted at 18:49 and off a free position shot at 17:16. Zisser scored on a power-play unassisted at 16:02 and suddenly, Augustana led 13-8. A goal by the Poets' Carolyn Mukai broke the Viking run at 13:07 and closed the gap to 13-9 but Letmanski hit the nets at 12:32 and 11:47, both unassisted, to make it 15-9. Sophomore Hilary Kargl (Sacred Heart Academy, Louisville, Ky.), who scored 97 goals and was second in NCAA Division III in 2012, scored off a free position shot with 11:17 left to make it 16-9. Zisser and Handrahan had the last two Augustana goals at 3:04 and 1:52 respectively to push the lead to 18-9 before Lily Baxter scored with just 44 left for Whittier to account for the final score.
Augustana won the draw control battle 17-13, including a margin of 10-4 in the decisive second half. The Vikings outshot the Poets 32-22. After giving up seven goals in the first half, freshman goalkeeper Jenna Hoffman (Columbine HS, Littleton, Colo.) settled down in the second stanza and allowed just three goals and had eight saves. She ended up with 10 saves for the game.
The Vikings, now 1-2 on the year will next be in action on March 8 at home against Hope at 7:30 p.m. at Thorson-Lucken Field.