February 25, 2013
Vikings move to 4-0 with 4-2 win over Hanover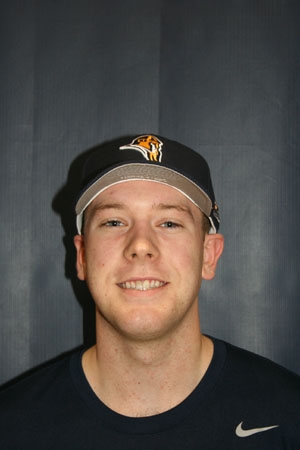 Freshman right-hander Walter White went six innings for the win in his first collegiate start Monday as Augustana defeated Hanover 4-2 in Auburndale, Florida.
AUBURNDALE, Florida - Four Augustana hurlers combined to hold the Hanover offense in check as the Vikings posted a 4-2 victory on Monday, February 25 in Auburndale, Florida. With the win, Augustana moves to 4-0 on the season.

Freshman Walter White (East Peoria HS, East Peoria, Ill.) got the start and worked the first six innings, scattering five hits and giving up one run. He struck out five and walked four. He left the game after the sixth with a 4-1 lead and gave way to senior Joe Cecchi (Romeoville HS, Romeoville, Ill.). Cecchi gave up a run in the seventh but got out of it with his team still ahead 4-2. Sophomore Eric Eagan (Oswego East HS, Aurora, Ill.) gave up a hit but struck out a batter in the eighth and senior Rick Erickson (Lake Zurich HS, Hawthorn Woods, Ill.) picked up his second save of the season by working the ninth. Erickson allowed one hit but struck out three.
Augustana broke open a scoreless game in the bottom of the third when Jacob VanDuyne (Wilmington HS, Wilmington, Ill.) singled with one out. He went to second on a single by senior Jeremy Juhl (Glenbard East HS, Lombard, Ill.). A fielder's choice off the bat of senior Kurt Schmidt (Grayslake Central HS, Grayslake, Ill.) forced Juhl at second but advanced VanDuyne to third and left Schmidt at first. Senior Grant Stewart (Sterling HS, Sterling, Ill.) was hit by a pitch to load the bases. Freshman pinch hitter Michael Baugh (Sherrard HS, Matherville, Ill.) singled to drive in Schmidt and VanDuyne to make it 2-0.
In the fourth senior Mark VanNatta (Rock Island Alleman Catholic HS, Moline, Ill.) doubled to lead off and went to third when freshman catcher John Swiderski (Geneva HS, Geneva, Ill.) reached on a fielder's choice and nobody was out on the play. Senior Tyler Bernal (LaSalle-Peru HS, Peru, Ill.) hit a sacrifice fly to plate VanNatta and Swiderski scored on a single by Juhl to push the lead to 4-0.
Juhl had three hits on the day to spark the Vikings offense and Baugh collected a pair of RBI.