February 25, 2013
Despite lead after doubles, Vikings fall to Capital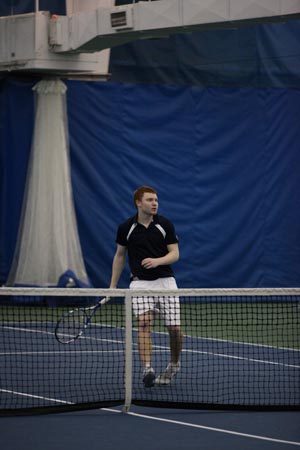 Junior Kevin Bayles won at number three singles and number two doubles but Augustana fell to Capital 5-4 in Kissimmee, Florida on Monday, February 25.
KISSIMMEE, Florida - Less than 24 hours after playing two matches on the Florida Spring Break trip, Augustana was back on the court and the Vikings dropped a match to Capital 5-4 on Monday, February 25 in Kissimmee, Florida. With the loss, Augustana falls to 5-2 while Capital moves to 2-1.

The Vikings grabbed a 2-1 lead coming out of doubles. Junior Andy Wall (Notre Dame Academy, DePere, Wis.) and sophomore Lawrence Palmer (Schiller International School, El Prat de Llobregat, Spain) defeated Luke Buchanan and Spencer Walter 8-1 at number one. Junior Kevin Bayles (Homewood-Flossmoor HS, Flossmoor, Ill.) and senior Will Palmer (Schiller International School, Leicester, England) took care of Kenny Duncan and John Murray 8-1 at number two.
However, Augustana only notched two wins in singles and was unable to hold the lead. Bayles defeated Murray 7-5; 7-6 at number three singles and freshman Patrick Lenz (Villanova Prep School, Ojai, Calif.) beat G.C. DiMichelango 7-6; 6-4 at number five.
Wall dropped a hard-fought match at number two singles to Duncan 2-6; 6-3; 8-10 and freshman John Alexander (Rockford Guilford HS, Loves Park, Ill.) lost a three setter at number five to Jared Judson 0-6; 6-3; 5-10.
The Vikings will play twice on Tuesday, February 26, facing Davenport University and Hanover.