February 24, 2013
Pence victory secures 5-4 win over Alma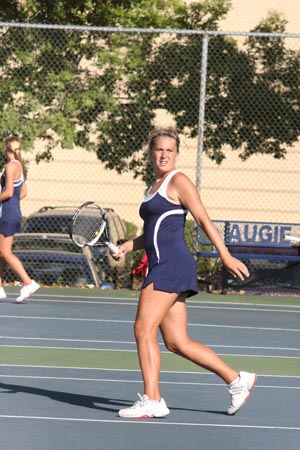 Miranda Pence clinched the 5-4 win over Alma on Sunday, February 24 with a 6-1; 4-6; 10-5 victory over Maggie Miller at number four singles.
ORLANDO, Fla. - Coach Jon Miedema's Augustana women opened the spring portion of this year's tennis schedule with a 5-4 win over Alma Sunday. The Vikings, now 9-3 and ranked 20th in the Central Region by the Intercollegiate Tennis Association, were led by junior Kim Sawyer (Batavia HS, Batavia, Ill.), freshman Aileen MacDonald (Mundelein HS, Mundelein, Ill.) and sophomore Miranda Pence (Oswego HS, Oswego, Ill.). All three won in both their singles and doubles matches.

Pence was a 6-1, 4-6, 10-5 winner over Margaret Miller at fourth singles and her victory was the decisive one for the Vikings as the match was tied 4-4 with Pence and Miller still on the court. She joined junior Caitee Margenthaler (Moline HS, Moline, Ill.) for a number three doubles win over Margaret Miller and Morgan Waier (6-1, 6-3).
Sawyer cruised to a 6-3, 6-1 win over the Scots' Megan Solano at number one singles and teamed with MacDonald for an 8-6 win over Solana and Tara Patton at first doubles. MacDonald won her number three singles match 6-1, 6-3 over Katie Meloche.
Patton defeated Augustana senior Krista Panko (Geneva HS, Geneva, Ill.) 6-0, 6-1 at second singles. Alma's Lauren Moreau handed senior Meghan Wethington (Geneseo HS, Geneseo, Ill.) a 0-6, 6-4, 10-3 defeat at number five singles and Waier bested Viking junior Callie Winter (Downers Grove South HS, Downers Grove, Ill.) 6-1, 6-3 at number six. Panko and Wethington dropped a tight 9-7 decision to Brittney Miller an Meloche at number two doubles.
Augustana continues play in Florida on Tuesday, February 26 with matches against Davenport and Hanover.