February 24, 2013
Vikings split in first day of Florida competition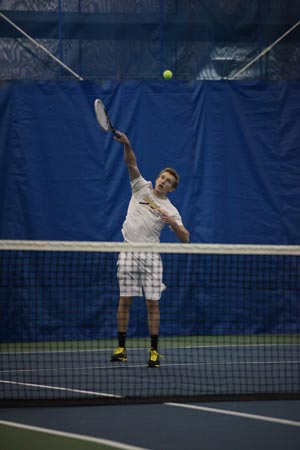 Lawrence Palmer won at number one singles and doubles in Augustana's 9-0 victory over Alma on Sunday, February 24. He also played a three set match against Matt Blake of NCAA Division I Mt. St. Mary's before losing.
ORLANDO, Fla. - The Augustana men's tennis team suffered its first loss of the season Sunday, falling 7-0 to a Division I Mt. St. Mary's squad that sports a 5-1 record. The Vikings bounced back later in the day with a 9-0 win over Alma to improve to 5-1 themselves. Coach Jon Miedema's team continues play in Florida with a Monday match against Capital.

Mt. St. Mary's 7, Augustana 0
Against Mt. St. Mary's, Augustana's number one and two singles players, sophomore Lawrence Palmer (Schiller International School, El Prat de Llobregat, Spain) and senior Will Palmer (Schiller International School, Leicester, England) each won their first sets, but ended up falling in three. Lawrence lost 4-6, 6-2, 10-5 to Mountaineer Matthew Blake and Will fell to Adam Salam 2-6, 6-1, 6-3.
At number three singles, Mike Salomon bested Viking junior Adam Wall (Notre Dame Academy, De Pere, Wis.) one and one. Junior Kevin Bayles (Homewood-Flossmoor HS, Homewood, Ill.) lost to Mt. St. Mary's Austin Blake 7-5, 6-3 at fourth singles. Mike Zabetakis was a 6-2, 6-1 winner over Augustana junior Gant Wick (Windsor HS, Fort Collins, Colo.) at number five and senior Jack Cullen (Edgewood HS, Madison, Wis.) fell love and four to Mountaineer Taylor Place at sixth singles.
In doubles play, Lawrence Palmer and Wall lost 8-6 to Matthew Blake and Pace at number one. Salam and Salomon defeated Bayles and Will Palmer 8-0 at number two and Austin Blake and Zabetakis beat Cullen and freshman Austin Schoeck (Alleman HS, Rock Island, Ill.) 8-0 at number three.
Augustana 9, Alma 0
Returning to competition at the Division III level, the Vikings swept all nine matches against Alma.
In singles play, Augustana's Lawrence Palmer handled Joshua Grove 6-0, 2-0 at number one and brother Will won at number two, 6-7, 6-0, 10-6 over Alma's Logan Beard. Wall took care of Trent Pontius one and three at third singles and Bayles was a 6-4, 6-2 winner over the Scots' Jared Guy at number four. Wick bounced back from a first set loss to win 4-6, 7-6, 10-5 over Gordon Rumschlag at number five and freshman Patrick Lenz (Villanova Prep, Ojai, Calif.) picked up a win at number six, defeating Phillip Ryskamp love and two.
Lawrence Palmer and Wall were 9-7 first doubles winners over Beard and Pontius. Bayles and Will Palmer defeated Guy and Rumschlag 9-8 at second doubles and at number three, it was Schoeck and Wick winning 8-3 over Alma's Travis Long and Sam Reedy.