February 23, 2013
Vikings finish second in CCIW Indoor meet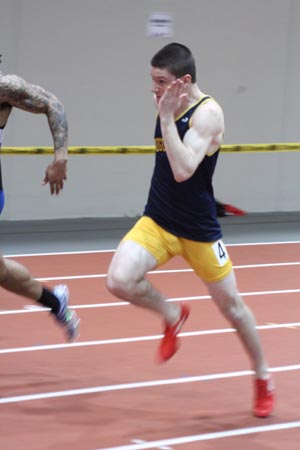 Senior Alex Rindone won the 200 in :22.04 and took sixth in the 55 in :06.64 and handled the second leg on the winning 1600 relay team at the CCIW Championships over the weekend of Friday, February 22 and Saturday, February 23 in Kenosha, Wisconsin.
KENOSHA, Wis. - Individual victories from seniors Greg Patton (Bloomington HS, Bloomington, Ill.) and Alex Rindone (Marmion Academy, Geneva, Ill.) as well as the 1600 relay, where Patton and Rindone were key components, helped Augustana to a solid second place performance at the College Conference of Illinois & Wisconsin indoor track & field championship. The CCIW meet was held on Friday, February 22 and Saturday, February 23 at Carthage College in Kenosha, Wisconsin.

North Central, the fourth ranked team in NCAA Division III, won with 250 points while Augustana, ranked eighth in the nation, placed second with 131. Carthage, number nine in the country, took third with 114 and Illinois Wesleyan, 24th in the latest poll, was fourth with 63. Wheaton (49), North Park (28), Millikin (15) and Elmhurst (13) rounded out the field.
Patton led a one-two Viking finish in the 400 as he won against a great field with a time of :49.27 with sophomore David Voland (Batavia HS, Batavia, Ill.) taking second in :49.33. Voland was also second in the 55 hurdles in :07.90.
Rindone won the 200 in :22.04 with sophomore teammates Keith Cline (Byron HS, Byron, Ill.) and David Devore (Midland HS, Midland, Mich.) placing third and eighth respectively. Cline ran :22.51 and Devore :22.84. Rindone was also fifth in the 55 in :06.60 while Devore was sixth in :06.64. Patton, Rindone, Cline and Voland teamed up to win the 1600 relay in 3:19.13.
Senior Ethan Gale (Oregon HS, Oregon, Ill.) scored 4,624 points to place second in the heptathlon with junior Joshua Eisenberg (Richmond-Burton HS, Spring Grove, Ill.) taking third with 4,556 points. Both eclipsed the existing Augustana school record in the event.
Sophomore Vincenzo Dal Pozzo (Neuqua Valley HS, Naperville, Ill.) finished third in the 800 in 1:54.35.
Senior Kevin Macek (Carl Sandburg HS, Orland Park, Ill.) took fourth in the weight throw with a toss of 51' 3 ¾" and sophomore Jacob Benner (Batavia HS, Batavia, Ill.) was eighth at 45' 7". Macek added an eighth place performance in the shot (45' 10 ½") for good measure.
Freshman Keith Sands (United Township HS, Silvis, Ill.) recorded a fine distance double as he took sixth in the 3000 in 8:41.14 less than 24 hours after finishing third in the 5000 in 14:55.92. Sophomore Alex Odenkirk (Ironwood Ridge HS, Tucson, Ariz.) placed seventh in the mile in 4:20.69.
Junior Justin Davidson (Galesburg HS, Galesburg, Ill.) cleared 6' 4 ¾" to finish sixth in the high jump. Senior Mike Tovar (Mooseheart HS, Chicago, Ill.) was eighth in the triple jump with a leap of 41' 10" after finishing third in the long jump (22' 6 ¼") the night before.