February 23, 2013
19 hits help fuel sweep of Ave Maria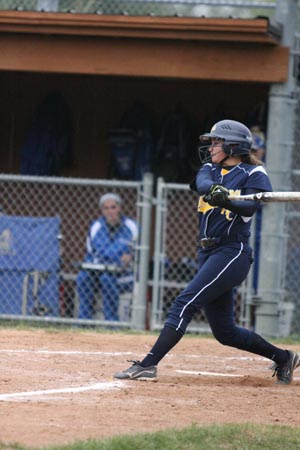 Sophomore Chelsea Lavin collected four hits in seven at-bats while scoirng two runs and driving in four from her leadoff spot to help Augustana sweep Ave Maria by scores of 6-1 and 8-3 in the season-opening double header on Saturday, February 23 in Clermont, Florida.
CLERMONT, Florida - It might have been the opening day of the 2013 softball season but the Augustana bats sure seemed in mid-season form. The Vikings swept Ave Maria by scores of 6-1 and 8-3 on Saturday, February 23 in Clermont, Florida.

Veteran head coach Kris Kistler's team pounded out a total of 19 hits in the two victories and had five multiple run innings.
The pitching wasn't bad either as junior Sarah Hintz (LeRoy HS, LeRoy, Ill.) and Jaime Rehmert (Sterling HS, Sterling, Ill.) each posted victories and as a staff the Vikings only gave up seven hits in the double header.
GAME 1 - Augustana 6, Ave Maria 1
The Vikings scored three runs in the top of the second and three more in the top of the fourth and that was enough as they secured a 6-1 win in the first game of the season.
Sophomore Jaclyn Wrona (Glenbard South HS, Wheaton, Ill.) started things in the top of the second with a leadoff single. She was forced at second by sophomore Christie Wiersema (Morrison HS, Morrison, Ill.) for the first out of the inning. Freshman Ashley Anderson (Sherrard HS, Viola, Ill.) singled to left to push Wiersema to second. After the second out of the inning, freshman Cheyenne Burnett (Rock Falls HS, Rock Falls, Ill.) singled to left to load the bases. Sophomore Chelsea Lavin (Downers Grove South HS, Downers Grove, Ill.) singled to right to drive home Wiersema and Anderson. Sophomore Laura Behnke (Wheaton St. Francis HS, Roselle, Ill.) then singled to play Burnett.
In the fourth freshman Lisa Bartha (Glenbard South HS, Wheaton, Ill.) walked with one out and Lavin and Behnke followed with singles to load the bases. Senior Jenna Nelson (Orion HS, Orion, Ill.) then tripled to right field to drive in three runs.
Hintz worked six innings and only allowed one hit and one walk while striking out nine to pick up the victory. Rehmert worked the seventh and gave up two hits and one run but closed the door on the Gyreen rally.
GAME 2 - Augustana 8, Ave Maria 3
A total of eight Augustana batters collected hits as the Vikings swept the double header with an 8-3 victory.
After falling behind 1-0 in the first, Augustana scored four runs in the bottom of the second. With one out Wrona singled to right and went all the way to third when the ball was misplayed in the outfield. Sophomore Jenna Teson (Jacobs HS, Algonquin, Ill.) beat out a bunt for a hit and Wrona scored on the play to tie up the game. Sophomore Cassie Saufley (Normal West HS, Hudson, Ill.) hit into a fielder's choice with Wrona out at second. Rehmert and Burnett then singled to load the bases. Rehmert gave way to a pinch runner, freshman Jennifer Gray (Lincoln-Way East HS, Mokena, Ill.). Lavin then tripled to right center to clear the bases and make the score 4-1.
The Vikings added two more in the fourth when Rehmert hit a sacrifice fly to score Teson, who had walked to lead off the inning and Burnett singled to drive in Saufley, who had reached on an error.
Junior Krista Watson (Coal City HS, Coal City, Ill.), the team's MVP last year, got her first hit of the season in the sixth and it was a single to right field that drove in Lavin and Anderson.
Rehmert worked four innings of one hit ball to pick up the victory while Anderson finished the final three innings.
Augustana will play Capital and Rose-Hulman on Monday, February 25 at 9:00 a.m. and 11:00 a.m. respectively.