February 23, 2013
Jones sets meet record in winning 3000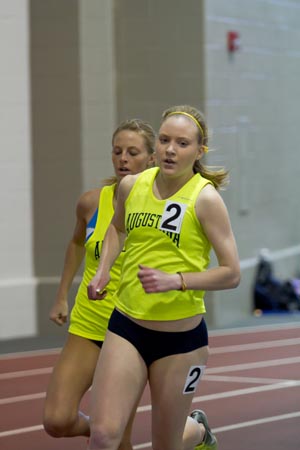 Senior Sarabeth Jones won the 3000 at the CCIW indoor track & field championship in a meet record time of 10:16.92. It was the third individual conference title of her career.
KENOSHA, Wis. - Augustana senior Sarahbeth Jones (Warren Township HS, Wadsworth, Ill.) set a new meet record in winning the 3000 at the College Conference of Illinois & Wisconsin indoor track & field championships on Saturday, February 23 in Kenosha, Wisconsin. Jones was the lone individual winner for the Vikings, who finished fifth in the team standings in the two-day event.

Jones won with a time of 10:14.66 and it was the third individual CCIW title of her career. Last year she also won the 3000 at the indoor championships with a time of 10:21.38 and she took the 5000 during the outdoor championships. Earlier in the meet, on Friday, February 22, she placed third in the 5000 with a time of 18:01.26.
Augustana scored 70 points to place fifth in the team standings. North Central won the championship with 175 points while Illinois Wesleyan was second with 156 and Carthage took third with 115. Millikin snuck ahead of the Vikings with 78 points to place fourth. Wheaton (45), Elmhurst (21) and North Park (3) finished behind Augustana.
Junior Kate Benge (Pleasant Valley HS, Bettendorf, Iowa) finished third in the 800 with a time of 2:20.15 after leading off the second place distance medley team the night before. Sophomore Jessica Bacon (Rock Island HS, Rock Island, Ill.), who anchored the distance medley to that runner-up finish, placed fourth in the mile in 5:09.19.
The 1600 meter relay team of junior Kierra Smith (Creston HS, Creston, Iowa), Benge, freshman Stephanie Sorrentino (York HS, Elmhurst, Ill.) and freshman Annie Martines (St. Charles East HS, St. Charles, Ill.) took fourth in 4:06.11. Smith was also fifth in the 55 hurdles (:08.81) and seventh in the 400 (:59.65). Martines finished eighth in the 55 hurdles in :09.09.
Junior Liana Beauchamp (Genoa-Kingston HS, Kingston, Ill.) placed sixth in the shot with a toss of 37' 8 ¾" after taking second in the 20 pound weight throw one night earlier. Junior Johanna Schnitzler (Downers Grove South HS, Woodridge, Ill.) was fifth in the pentathlon with 2,726 points.