February 23, 2013
Men's lacrosse falls to Berry in season opener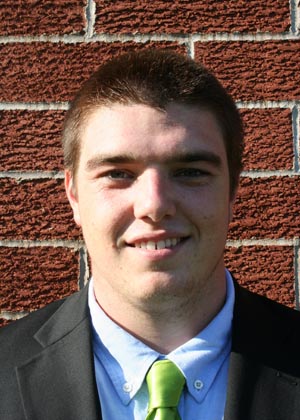 Freshman Kevin Gleason scored two goals and contributed an assist in Augustana's 13-6 loss at Berry to open the 2013 men's lacrosse season.
ROME, Georgia - Despite scoring the first two goals of the game, Augustana fell to Berry 13-6 in the Vikings' men's lacrosse season opener on Saturday, February 23 in Rome, Georgia. The game was fairly even through the first two periods as Berry led by just a single goal (5-4) at halftime.

The second half was a different matter, however, as the home team outscored the Vikings 8-2 and held a whopping 28-9 advantage in shots during the third and fourth periods.
Sophomore Jesse Nagelberg (St. Charles East HS, St. Charles, Ill.), Augustana's leading scorer a year ago, got things started with an unassisted goal less than five minutes into the contest (10:48). Freshman Scott Davis (St. Thomas Aquinas HS, Overland Park, Kan.) made it 2-0 just nine seconds later when he took a perfect feed from sophomore Ryan Nakamoto (Naperville Central HS, Naperville, Ill.) off the face-off and found the back of the net.
Berry scored the next four goals with a different player scoring each time to make it 4-2 with 1:40 left in the first period. Freshman Kevin Gleason (Loyola Academy, Chicago, Ill.) scored off a Chris Hager (Exeter HS, Newfields, N.H.) assist just 31 seconds before the end of the first to bring the Vikings within a single goal 4-3. Gleason scored just 17 seconds into the second period with sophomore Colin Haley (St. Charles East HS, St. Charles, Ill.) getting the assist to tie the match at 4-4.
From that point on, however, it was all Berry as the host got a goal from Bryan Byers at the 11:00 mark and took a 5-4 lead into intermission. Berry scored the next seven goals before Nagelberg broke the drought with 5:07 left in the game but by that time the score was 12-5. Freshman Kyle Doner (Peak-to-Peak HS, Erie, Colo.) scored the final goal for the Vikings with two seconds left in the game.
Nakamoto led the Vikings with six ground balls and he won 10 of 18 face-offs.
Augustana, which was 8-6 in its debut season a year ago, will play Ogelthorpe on February 27 in Atlanta, Georgia.