February 22, 2013
Ninth inning heroics lead to win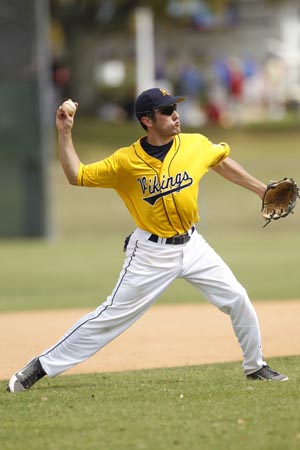 Senior Joe Cecchi drove in the winning run in the bottom of the ninth inning and he also pitched 1 1/3 scoreless innings to help lead Augustana to a 5-4 win over Brandeis on Friday, February 22 in Auburndale, Florida.
AUBURNDALE, Florida - Augustana squeezed out a run in the bottom of the ninth inning without the benefit of a hit and defeated Brandeis 5-4 in non-conference baseball action on Friday, February 22 in Auburndale, Florida. It was the second straight one run victory for veteran head coach Greg Wallace's team over the Judges. In the season-opener the day before the Vikings prevailed 3-2.

With the score tied 4-4 heading into the bottom of the ninth inning, Brandeis reliever Brian Ing set down the first two Vikings he faced. He then allowed a single to senior shortstop Jeremy Juhl (Glenbard East HS, Lombard, Ill.) and senior second baseman Kurt Schmidt (Grayslake Central HS, Grayslake, Ill.) reached on a throwing error with Juhl ending up at third and Schmidt at second. Senior first baseman Grant Stewart (Sterling HS, Sterling, Ill.) was walked intentionally to load the bases and senior designated hitter Joe Cecchi (Romeoville HS, Romeoville, Ill.) was hit by a pitch from Ing to bring Juhl in with the winning run.
Augustana scored single runs in the fourth and the fifth innings to take a 2-0 lead behind the pitching of sophomore lefthander Seth Davis (J.K. Mullen HS, Aurora, Colo.). Schmidt singled in the fourth and scored an unearned run off Brandeis starter Mike Swerdloff when Cecchi's two out ground ball was misplayed for an error. In the fifth senior catcher Jim Sandberg (J.K. Mullen HS, Littleton, Colo.) singled with one out and went to third on a single by sophomore leftfielder Danny Fifer (Lincoln-Way West HS, New Lenox, Ill.). Sandberg scored on a ground out off the bat of junior right fielder Jacob VanDuyne (Wilmington HS, Wilmington, Ill.).
Brandeis tied the game in the top of the seventh with a pair of runs off Davis. Kyle Brenner's two-RBI single knotted the game. Augustana bounced back with two runs in the bottom of the eighth with Cecchi picking up an RBI on a sacrifice fly and sophomore third baseman Kyle Lenihan (Romeoville HS, Romeoville, Ill.) getting one on a two-out single.
Brandeis bunched three hits in the top of the ninth off Viking reliever Rick Erickson (Lake Zurich HS, Hawthorn Woods, Ill.) to score two runs and tie the game 4-4 heading into the bottom of the frame.
Davis worked 6 2/3 innings and gave up two runs with four strikeouts and only allowed three hits. Cecchi pitched 1 1/3 innings and didn't allow a run. Erickson was credited with the victory and he is now 1-0 on the season.
Fifer led the hitting attack with two while Juhl scored a pair of runs.
The two teams will play again on Saturday, February 23 at 1:00 p.m. at Lake Myrtle Park #1.