February 21, 2013
Vikings drop season opener at Redlands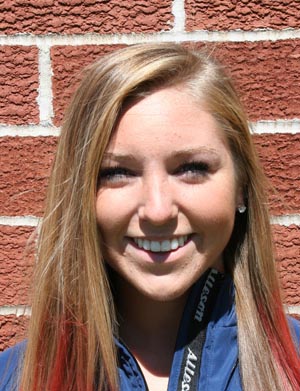 Freshman Emily Handrahan scored twice in Augustana's season-opening 18-6 loss at Redlands Thursday night.
REDLANDS, Calif.-Augustana opened the 2013 women's lacrosse season on the west coast Thursday night, facing the University of Redlands. The Bulldogs, who are receiving votes in the IWLCA national poll, took down the Vikings by a score of 18-6 to improve to 4-1 on the year. Freshman Emily Handrahan (Lake Zurich HS, Hawthorn Woods, Ill.) scored twice for Augustana (0-1).

Redlands, which finished 16-2 a year ago, jumped on the Vikings from the get-go. With Stephanie Garrett, K.K. McCaslin and Aimee Dewan scoring twice each, the Bulldogs took a 7-0 lead before Handrahan got the visitors on the board with a free position goal at the 7:40 mark of the first half.
McCaslin scored twice more as the hosts took an 11-1 lead to the locker room.
Augustana sophomore Christina Letmanksi (Glenbard West HS, Wheaton, Ill.) opened the second half scoring with an assist from freshman Kendall Maduro (Neuqua Valley HS, Naperville, Ill.), but Redlands answered with five straight goals to take a 16-2 lead.
Sophomore Hilary Kargl (Sacred Heart Academy, Louisville, Ky.), who was second in the nation with 97 goals a year ago, scored the first of three consecutive Augustana goals via another helper from Maduro. Handrahan and freshman Rebecca Pollard (Westfield HS, Carmel, Ind.) followed with goals to cut the deficit to 16-5 with 3:36 left. Kargl assisted on Handrahan's score, while Pollard's came on a free position shot.
Maduro tallied the Vikings' final goal of the night with an assist from sophomore Kate Zisser (Kirkwood HS, St. Louis, Mo.).
Augustana was outshot by a 34-12 margin. Redlands also had an 18-14 advantage in ground balls and a 14-10 edge in draw controls. Sophomore goalkeeper Sarah Osier (Naperville Central HS, Naperville, Ill.) recorded 12 saves for the Vikings.
On Saturday, February 23, Coach Sara Tisdale's squad travels to Los Angeles, California to face Occidental College. The Tigers (2-2) are also receiving votes in the IWLCA poll and handed Redlands its only loss this season. Game time is scheduled for 3:00 p.m. central time.