February 21, 2013
John Schraidt wins CCIW title at 285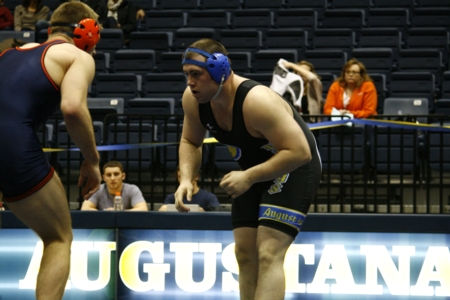 Sophomore John Schraidt claimed the CCIW title at 285 pounds Thursday night in Wheaton, Illinois.
WHEATON, Ill.-Augustana sophomore John Schraidt (Riverside-Brookfield HS, Riverside, Ill.) scored a 7-5 sudden victory over Jack Lewis of Elmhurst Thursday night to claim the College Conference of Illinois & Wisconsin title at 285 pounds. The Vikings finished third as a team with 52 points. Second-ranked Elmhurst had six individual champions and won its second straight CCIW team title.

Top-seeded Schraidt received a semifinal bye before defeating Lewis.
Augustana got second-place performances at 141, 149 and 174 pounds. 2012 165-pound champion Matt Burns (Naperville Central HS, Naperville, Ill.) scored a 3-0 semifinal win over Wheaton's Matt McCrary at 174 pounds, but fell 10-4 to Danny Balderas of Elmhurst in the title bout. At 149, sophomore Walter Piech (Lincoln-Way East HS, Mokena, Ill.) took care of Daniel Mitchell of Wheaton 6-1 in the semis before dropping a 5-4 decision to North Central's Nathan Segal for the championship. Freshman Isaiah Schaub (St. Francis HS, Traverse City, Mich.) was second at 141 as well, pinning North Central's Jonathan Williamson at 5:59 of their semifinal bout to reach the championship, where he fell 12-3 to Ryan Earley of Elmhurst.
Three Vikings scored third-place finishes. 157-pound sophomore Kevin Sundberg (Paw Paw HS, Paw Paw, Mich.) lost 7-5 in the semifinals to Nick DiNardo of Elmhurst, but rebounded by winning 10-5 over Blake Olson of North Central in their third-place bout. Wheaton's Daniel Olsen pinned sophomore Thomas Reyhons (Assumption HS, Davenport, Iowa) in their 184-pound semifinal match, but the Augustana sophomore bounced back to stick Vince Marrone of North Central in just 49 seconds for third. Sophomore 165-pounder Connor Cummings (Downers Grove North HS, Woodridge, Ill.) was a third-place finisher by default after falling 11-6 to Yousef Al-Ghoul of Elmhurst in the semis.
Freshman Jake Melik (Pleasant Valley HS, Bettendorf, Iowa) was fourth at 197 pounds. He was pinned by top seed and eventual champion Mike Benefiel of Elmhurst in the semifinals and dropped a 7-2 decision to North Central's Casey Greenberg in the third-place bout.
Augustana wrestled without 2011 CCIW 125-pound champion Jacob Scholten (Rockford HS, Grandville, Mich.) and 2012 174-pound champion and Co-Outstanding Wrestler Jordan Richardson (Grandville HS, Wyoming, Mich.). Richardson, who moved up to 184 pounds this year, is out with an injury. The Vikings also did not have a competitor at 133 pounds.
Elmhurst's Joe Rau and North Central's Nathan Fitzenreider, who were champions at 184 and 133 pounds, respectively, shared Outstanding Wrestler honors and the Bluejays' Steve Marianetti was named Coach of the Year.
Elmhurst compiled 110 points for the title. Wheaton (58) finished second in the team standings, six points ahead of the Vikings and North Central was fourth with 48 points.
Next up for coach Eric Juergens' squad is the NCAA Central Regional on March 2 in Dubuque, Iowa.