February 21, 2013
McIntosh gem starts season on winning note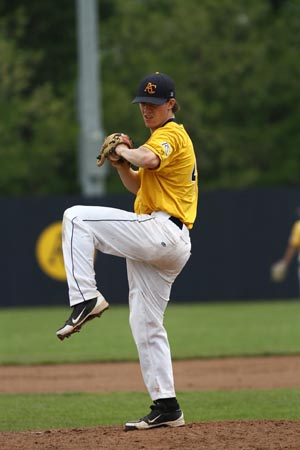 Senior Jared McIntosh worked eight innings and scattered six hits to lead Augustana to a 3-2 victory over Brandeis in the 2013 season opener.
WINTER HAVEN, Fla. - The combination of senior Jared McIntosh's (Davenport Assumption HS, Davenport, Iowa) pitching and an offense that produced 14 hits helped give Augustana a 3-2 victory over Brandeis on Thursday, February 21. It was the opening game of the season for veteran head coach Greg Wallace's club and the game was played at Chain of Lakes Park in Winter Haven, Florida.

McIntosh worked eight innings, striking out three while allowing six hits and walking three and allowing two runs as he picked up the victory. Senior Rick Erickson (Lake Zurich HS, Hawthorn Woods, Ill.) came in and faced just three batters in the ninth and was credited with the save.
McIntosh gave up single runs in the second and eighth but his teammates, despite leaving 12 runners on base, managed just enough offense to get him the victory.
The Vikings struck first in the top of the first inning. Junior Jacob VanDuyne (Wilmington HS, Wilmington, Ill.) led off the game, and the season, with a double. With one out VanDuyne stole second and with two outs senior Grant Stewart (Sterling HS, Sterling, Ill.) singled him home.
Brandeis tied the game in the bottom of the second when Rob Trenk doubled with one out and came home on a single by Liam O'Connor.
VanDuyne was the key component in Augustana's second run, which came in the top of the fifth. He singled to lead off the inning and promptly stole second. A Stewart single with two outs brought VanDuyne home.
In the top of the eighth inning senior leftfielder Tyler Bernal (LaSalle-Peru HS, Peru, Ill.) homered with two outs to account for the third run of the game for the Vikings.
The Judges narrowed the gap to 3-2 in the bottom of the eighth with a single run. Zach Bardwell walked with one out and went to second on a ground out. He stole third and came home on a single by Chris Ferro.
Wallace pulled McIntosh after the eighth and tapped Erickson to come out of the bullpen and save the game. He did exactly that as he got Tom McCarthy to strike out and Pat Seaward to ground to second. Trenk, who had two hits in the game, singled but Erickson picked him off to end the game.
Augustana had 14 hits in the game with VanDuyne leading the way with four while scoring two runs. Stewart had three hits and a pair of RBI. Senior designated hitter Joe Cecchi (Romeoville HS, Romeoville, Ill.) and sophomore third baseman Kyle Lenihan (Romeoville HS, Romeoville, Ill.) each had two hits.
The same two teams will tangle again tomorrow.