February 21, 2013
Women's track & field stays in NCAA's top 20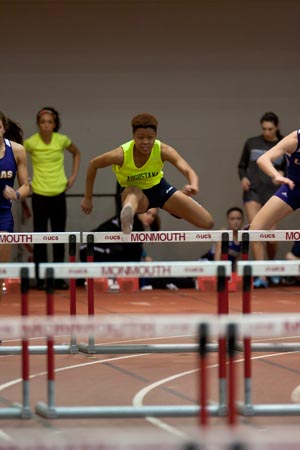 Freshman Ashley Jensen-Anderson has been a valuable contributor for the 19th ranked Augustana women's track & field team this indoor season.
The Augustana women's track & field team is currently ranked 19th in NCAA Division III according to the US Track & Field/Cross Country Coaches Association's dual meet power rankings. Veteran head coach Fred Whiteside's team has been ranked in the top 20 all season long.

The Vikings next competition will be in the College Conference of Illinois & Wisconsin championship on February 22-23 at Carthage College in Kenosha, Wisconsin. There will be four teams ranked in the NCAA Division III's top 20 at the CCIW meet. North Central is fifth (145.08), Illinois Wesleyan 11th (134.29), Carthage 15th (131.23) and Augustana 19th (127.58).
Wisconsin-LaCrosse leads the NCAA Division III poll, which ranks the top two performances by each team in every event, with 153.30 with Ithaca in second with 147.85. Wartburg (147.79), Massachusetts Institute of Technology (146.03) and North Central (145.08) make up the top five. This ranking has a decidedly Midwest flavor as 10 of the 20 teams represent the Midwest Region.
The Vikings started the indoor season off right with a first place finish at the Sol Butler Invitational on January 12 in Dubuque, Iowa. They finished third at the Olivet Nazarene Invitational on January 26 and then went on to place fifth at the hotly contested Warhawk Invitational in Whitewater, Wisconsin. A third place finish at the Grinnell Invitational on February 9 was followed by a victory in the Valentine's Day Invitational on Thursday, February 14 at home.
2013 NCAA DIVISION III INDOOR DUAL MEET POWER RANKINGS
Sponsored by the USTFCCA ** As of 02/21/2013 ** POLL #5
| | | | |
| --- | --- | --- | --- |
| RANK | SCHOOL | REGION | POINTS |
| | | | |
| 1. | Wisconsin-LaCrosse | Midwest | 153.30 |
| 2. | Ithaca | Atlantic | 147.85 |
| 3. | Wartburg | Central | 147.79 |
| 4. | Massachusetts Institute of Technology | New England | 146.03 |
| 5. | North Central | Midwest | 145.08 |
| 6. | Tufts | New England | 144.80 |
| 7. | Williams | New England | 138.61 |
| 8. | SUNY Cortland | Atlantic | 137.96 |
| 9. | Johns Hopkins | Mideast | 136.81 |
| 10. | Wisconsin-Eau Claire | Midwest | 136.75 |
| 11. | Illinois Wesleyan | Midwest | 134.29 |
| 12. | Washington (Missouri) | Midwest | 133.06 |
| 13. | Wisconsin-Whitewater | Midwest | 132.13 |
| 14. | Ohio Wesleyan | Great Lakes | 131.92 |
| 15. | Carthage | Midwest | 131.23 |
| 16. | Wisconsin-Stevens Point | Midwest | 130.14 |
| 17. | St. Lawrence | Atlantic | 128.41 |
| 18. | Wisconsin-Stout | Midwest | 128.12 |
| 19. | Augustana | Midwest | 127.58 |
| 20. | Bates | New England | 126.68 |
| | | | |