February 21, 2013
Men's track ranked eighth heading into CCIW meet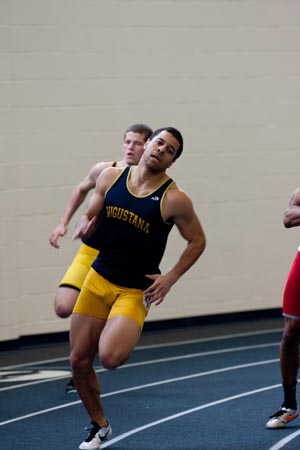 Senior Greg Patton is one of the leaders of the Augustana men's track & field team that is currently ranked eighth in NCAA Division III. The Vikings will compete in the College Conference of Illinois & Wisconsin championship on February 22-23 in Kenosha, Wisconsin.
Heading into the College Conference of Illinois & Wisconsin indoor track & field championship this weekend, Augustana is currently ranked eighth in the NCAA Division III dual meet power ranking. The poll, which is conducted by the U.S. Track & Field and Cross Country Coaches Association, quantifies the depth of each team. The team's total score is the sum of all points earned in each event. Two individual athletes are scored per event, as well as one relay team. The points are based on the best marks of an event in the current season, with the faster times and farther distances worth more.

Augustana has 147.91 points, which is a slight bump from last week's total of 145.41 points. The CCIW championship, which will be held on Friday, February 22 and Saturday, February 23, should be interesting as three teams in the top 10, and a fourth in the top 25, will be competing. North Central, the defending CCIW champion, is currently ranked fourth in the nation with 157.08 points while Augustana, eighth with 147.91, and Carthage, ninth at 146.86, have been consistent top 10 teams all season long. Illinois Wesleyan is currently 24th with 130.43.
The ranking certainly has a Midwest flavor with six teams in the top 10 coming from the Midwest Region. Wisconsin-LaCrosse is first with 164.81 while Wisconsin-Oshkosh is second with 158.25. The other Midwest school in the top 10 is Wisconsin-Platteville in 10th with 145.36 points.
Augustana started the season with a team victory in the Sol Butler Invitational on January 12 in Dubuque, Iowa, scoring 187.5 points to win the five-team event. On Saturday, January 19 the Vikings competed in the Midwest Invitational in Monmouth, Illinois and won seven events although there were no team scores. The Vikings tied for first in the Olivet Nazarene Invitational on Friday, January 25 in Kankakee, Illinois and were fifth at the Whitewater Invitational on Saturday, February 2 in Whitewater, Wisconsin. They recently won the Grinnell Invitational on Saturday, February 9 in Grinnell, Iowa and then took the Valentine's Day Invitational at home on Thursday, February 14.
2013 NCAA DIVISION III INDOOR DUAL MEET POWER RANKINGS
Sponsored by the USTFCCAAs of 02/21/13 POLL #5
| | | | |
| --- | --- | --- | --- |
| RANK | SCHOOL | REGION | POINTS |
| 1. | Wisconsin-LaCrosse | Midwest | 164.81 |
| 2. | Wisconsin-Oshkosh | Midwest | 158.25 |
| 3. | Bates | New England | 158.02 |
| 4. | North Central | Midwest | 157.08 |
| 5. | Tufts | New England | 154.01 |
| 6. | Wartburg | Central | 151.79 |
| 7. | SUNY Cortland | Atlantic | 151.69 |
| 8. | Augustana | Midwest | 147.91 |
| 9. | Carthage | Midwest | 146.86 |
| 10. | Wisconsin-Platteville | Midwest | 145.36 |