Former Governor Edgar to speak on campus
February  20, 2013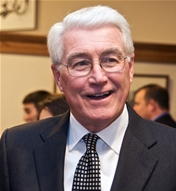 Former Illinois Gov. Jim Edgar
Former Illinois Gov. Jim Edgar will deliver an address, "Leadership in Times of Crisis," at Augustana College on Monday, March 11, at 7 p.m. in Wallenberg Hall, inside the Denkmann Building (3520 7th Ave.).
The lecture will be free and open to the public, marking the 13th installment of the Ellwood F. Curtis Family Lectureship in Public Affairs at Augustana College.
During his two terms in office from 1991 to 1999, the former Republican governor was considered a moderate who appealed to Republicans and Democrats alike. He left office with the highest approval rating of any governor in state history.
A central focus of his tenure was fiscal discipline. When he took office in 1991, the state was deeply in debt and teetering on bankruptcy. When he left office eight years later, Edgar had given the state a budget surplus and reduced the size of state government. He also fought for and won passage of historic legislation on the way Illinois schools are funded and overhauled the state's child welfare system.
Edgar is currently a Distinguished Fellow at the University of Illinois' Institute of Government and Public Affairs, where he interacts with students and lectures at other colleges and universities throughout the state.
He has also served as a resident fellow at the John F. Kennedy School of Government at Harvard University, serves on a variety of corporate and civic boards, and is the President Emeritus of the Abraham Lincoln Presidential Library Foundation.
In 1999, the same year he left office, Edgar received the Order of Lincoln, the state's highest honor, from the Lincoln Academy of Illinois for his work in government. The Lincoln Academy will bestow the same honor upon six people with ties to the Quad Cities on April 13 at Augustana College. The Lincoln Academy last held this event in the Quad Cities 40 years ago.
The former governor's appearance at Augustana College is made possible by a permanent endowment to provide lectures at the college in memory of Ellwood F. Curtis, a former president of John Deere & Company who was also an active member of the community.
Sam Schlouch
Senior Communication Director
(309) 794-7833
samschlouch@augustana.edu