2013 Summer Academy for high school students
February  20, 2013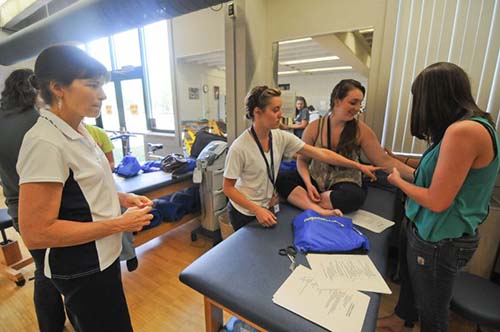 Students participate in the orthopaedic sports medicine class during Augustana Summer Academy 2012. (Augustana Photo Bureau/Mark Marogil '12)
Registration has begun for Augustana College's Summer Academy, where high school students can experience college life, stay overnight, and take classes with some of the most popular professors on campus.
Classes vary in length up to five days and take place June 23-28. There's engineering and art, science and writing, even a literary class about morality in the Harry Potter books.
Early enrollment is encouraged because classroom size is limited and interest in past years has been high, said Bonnie Jessee in Augustana's admissions office.
"It's absolutely amazing how this program has grown since we started four years ago," she said. "We've exceeded our expectations every year."
Students spend the night in residence halls, have meals on campus, and participate in supervised evening activities. All classroom supplies are included.
Part of the experience includes meeting other young people from outside the area, which can reduce apprehension about college life, Jessee said. Prior academies have drawn students from Chicago, Iowa and Minnesota, and as far away as Florida and Colorado.
Augustana College emphasizes cross-disciplinary education, meaning students can explore their interest in a wide range of subjects. Summer Academy classes that fill early have included the Potter class, cadaver dissection, writing workshops, and "CSI: Augustana," a takeoff on the TV show in which students study forensics and simulated crime.
Enrollment is open to all students who will be in high school next year, except for the cadaver class which is restricted to high school students entering their junior or senior year.
All students who participate in at least one Augustana Summer Academy course and later attend Augustana College to earn a bachelor's degree will receive a $500 scholarship each year they are enrolled at Augustana College (up to $2,000).
Course descriptions, pricing and online registration are available at www.augustana.edu/summeracademy.
For more information, contact Bonnie Jessee at (309) 794-7395.
Sam Schlouch
Senior Communication Director
(309) 794-7833
samschlouch@augustana.edu