February 18, 2013
Vikings optimistic for another successful season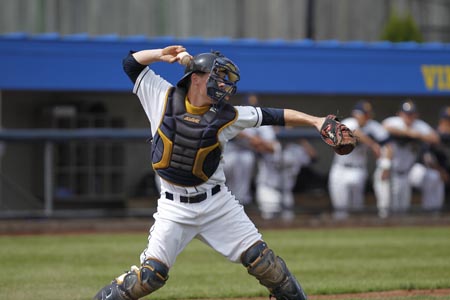 Senior Jim Sandberg started 40 games at catcher a year ago and he threw out 10 of 37 would-be base stealers.
Facing a schedule that features five NCAA Division III tournament teams from a year ago, including one that made the College World Series, veteran Augustana head baseball coach is looking forward to the opportunity that 2013 presents. The Vikings have been the model of consistency, winning at least 25 games in 13 of the last 14 seasons, and last year they went 25-17 and finished in a tie for third in the College Conference of Illinois & Wisconsin with an 11-10 league mark.

"We are once again looking forward to another successful season," said Wallace. "Our players have put in an exceptional amount of effort during fall and off-season workouts. I am very pleased with our preparation to take on the challenging schedule in 2013."
Two of Augustana's CCIW foes (Illinois Wesleyan and North Park) as well as non-conference opponents Webster, Aurora and Coe were NCAA Division III tournament qualifiers a year ago. Webster qualified for the NCAA Division III College World Series in 2012. Wallace is now in his 16th season as the head baseball coach at his alma mater and it has been a tenure punctuated by success from the beginning. He has posted a record of 434-206 (.678) in 15 years with the Vikings, including a 180-130 (.581) mark in CCIW play. Wallace has an overall collegiate coaching record of 512-255 (.668) that includes four years at Frostburg State College where he was 78-49.
"Even though we lost some significant contributors from last year's team, we believe that we have a great combination of talent in both our experienced and younger players," said Wallace. "There has been plenty of competition at a number of positions and we will be much younger in some areas than we have been lately. However, I am excited to watch this team grow as the season progresses."
Senior Jared McIntosh (Davenport Assumption HS, Davenport, Iowa) was an all-conference selection as a sophomore in 2011 when he was 4-0 with a 2.68 earned run average and held opponents to a .190 batting average. Last year he was 2-5 with a 5.91 ERA in 45 2/3 innings of work. Sophomore Seth Davis (J.K. Mullen HS, Aurora, Colo.) was an all-conference pick last year after he was 3-2 with a 3.51 ERA in 48 2/3 innings. He also picked off 10 opposing base runners.
While those two will head up the mound corps, seniors Rick Erickson (Lake Zurich HS, Hawthorn Woods, Ill.) and Ben Heaton (Bloomington Central Catholic HS, Heyworth, Ill.) will also be relied upon. Erickson appeared in 15 games last year, all out of the bullpen, and was 1-1 with a save and a 3.18 ERA. Heaton was 3-1 with a 3.69 ERA in 39 innings of work a year ago.
Senior Jim Sandberg (J.K. Mullen HS, Littleton, Colo.) started 40 of 42 games last year as the regular catcher and he will be back once again to handle those duties. He batted .213 with 26 hits in 122 at-bats with nine doubles, a home run and 11 RBI. Sophomore Nick Tenerelli (Downers Grove South HS, Downers Grove, Ill.) will also be in the mix at catcher.
The infield has plenty of experience back with seniors Grant Stewart (Sterling HS, Sterling, Ill.), Kurt Schmidt (Grayslake Central HS, Grayslake, Ill.), Jeremy Juhl (Glenbard East HS, Lombard, Ill.) and Joe Cecchi (Romeoville HS, Romeoville, Ill.) along with sophomore Kyle Lenihan (Romeoville HS, Romeoville, Ill.).
Stewart started all 41 games at first base in 2012 and he batted .336 with 48 hits in 143 at-bats with 20 runs scored, 12 doubles, two triples and one home run. He was also second on the team in runs-batted-in with 30. Schmidt, a four year starter at a variety of infield positions, will be at second base. Last year he started 41 games and hit .327 with 51 hits in 156 at-bats. He scored 34 runs and had 10 doubles and three triples while collecting 28 RBI and led the team in stolen bases with 18. Both Stewart and Schmidt were all-conference selections last year.
Juhl, also a four year regular, will handle things at shortstop where he started 42 games as a junior. He hit .368 with 64 hits in 174 at-bats while scoring 42 runs with six doubles and 29 RBI. Cecchi, who had 40 starts last year, and Lenihan, who had 16, will be at third base. Cecchi batted .268 with 37 hits in 138 at-bats with 12 runs scored, 12 doubles and 29 RBI. Lenihan batted .305 with 18 hits in 59 at-bats.
Junior Jacob VanDuyne (Wilmington HS, Wilmington, Ill.), a second-team all-CCIW pick in the outfield, will be in right where he batted .376 with 53 hits in 141 at-bats while scoring 29 runs and hitting eight doubles. Senior Mark VanNatta (Rock Island Alleman HS, Moline, Ill.) started 18 games in center field last year.