February 16, 2013
Sommers and 400 free relay break records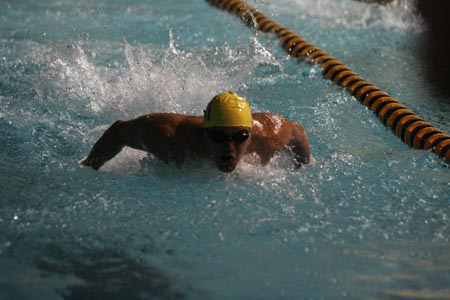 Freshman David Sommers eclipsed his own school record in the 200 butterfly as he placed second in the 200 butterfly with a time of 1:53.26 at the College Conference of Illinois & Wisconsin Championship on February 16 in Wheaton, Illinois.
WHEATON, Ill. - Freshman David Sommers (Westlake HS, Thousand Oaks, Calif.) eclipsed his own 200 backstroke school record twice on Saturday, February 16 at the College Conference of Illinois & Wisconsin Championships in Wheaton, Illinois and the 400 freestyle relay also set a new school standard. Those performances helped secure a fourth place team finish for head coach Scott Johannsen's Augustana Vikings with 485 points.

Wheaton won the team title with 802 points while Carthage was second with 777 and Rose-Hulman third with 733. The Vikings were all alone in fourth with 485 as Illinois Wesleyan (284), North Central (147) and Millikin (144) rounded out the field.
Sommers placed second in the 200 butterfly with a finals time of 1:53.26, breaking his own school record of 1:54.60 set in Saturday's preliminary round. Sommers came into the meet with the school record from his clocking of 1:57.34 set at the Grinnell Invitational on January 18 of this year. The school record before the season started belonged to Pat Donovan, who recorded a time of 1:58.81 back in 1989.
The 400 freestyle relay team of sophomore Aaron Holt (Mt. Vernon HS, Mt. Vernon, Ill.), sophomore Michael Duy (Marmion Academy, Aurora, Ill.), junior Justin Reppy (Oswego HS, Oswego, Ill.) and junior Daniel Hinck (Harlem HS, Loves Park, Ill.) placed third with a new school record time of 3:11.28. That took down the 2012 mark of 3:11.61 set by Holt, Duy, Charlie Vogt and Hinck.
Reppy started the day for the Vikings by taking fourth in the 1650 freestyle with a time of 16:31.56. Junior Austin Zarbuck (Urbana HS, Urbana, Ill.) was ninth in the same event in 17:20.03. Freshman Felipe Hernandez (United Township HS, East Moline, Ill.) finished sixth in the 200 backstroke in 1:59.68 although he recorded a faster time of 1:58.94 in the preliminary round. Senior Chris Greaves (Morris HS, Morris, Ill.) took ninth in 2:00.85.
Hinck was 11th in the 100 freestyle (:48.42) with Duy 14th (:49.12) and sophomore Tim Michaels (Pella HS, Pella, Iowa) 16th in :50.57. All three Vikings had faster swims in the preliminary rounds as Hinck went :48.17, Duy :48.81 and Michaels :49.82.
Greaves took 11th in the 200 butterfly with a time of 2:01.27 and sophomore Alex Putz (Oak Forest HS, Oak Forest, Ill.) placed 16th in 2:07.90. Junior Ryan Chaney (Pleasant Valley HS, Bettendorf, Iowa) placed 15th in the 200 breaststroke with a time of 2:21.75.