February 16, 2013
Crucial road win for Vikings at Elmhurst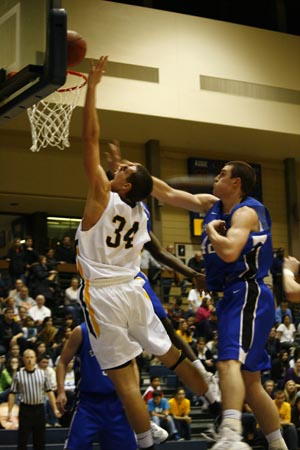 Freshman Ben Ryan scored 21 points and grabbed three rebounds to help lead Augustana to a hard-fought 66-61 win at Elmhurst on Saturday, February 16.
ELMHURST, Ill. - A game that played out much differently than the first time Augustana faced Elmhurst this year still finished with a Viking victory on Saturday, February 16 at R.A. Faganel Hall. This time the Vikings defeated the Bluejays by a score of 66-61 after rolling past Elmhurst by 43 points (84-41) on January 19 in Rock Island.

Freshman Ben Ryan (Washington HS, Washington, Ill.) led the way for the victors with 21 points as he connected on eight of 16 from the floor and five of seven from the free throw line. He grabbed three rebounds and had three steals.
While that win in the first game back in January between the two College Conference of Illinois & Wisconsin foes was accomplished with ease, this one was a battle throughout. Elmhurst led 31-27 at halftime and the score was tied nine times and the lead changed hands eight times during the game. Augustana's largest lead was five points, which was also the final margin.
The Vikings survived a poor shooting performance in the first half as they managed to connect on just .250 (8-32) from the floor. In the second half, however, they managed to connect on .500 of their shots as they hit 13 of 26. A statistic which really helped was turnovers as Augustana committed just eight while Elmhurst turned it over 17 times.
After trailing by four at halftime the Vikings tied the game 33-33 less than three minutes into the half on a basket by sophomore Danielius Jurgutis (Downers Grove South HS, Darien, Ill.). Elmhurst fought back and with 11:29 left the Bluejays got a tip-in basket by Erik Dornfeld to go up by five (44-39).
Nic Hoepfner (United Township HS, East Moline, Ill.) dropped in a basket with 8:19 remaining to pull Augustana even at 49-49 for what would be the last tie of the night. The Vikings took the lead over a minute later when Ryan scored to make it 51-49.
Two free throws by Jurgutis at 2:07 pushed the margin to 60-55 but Kyle Wuest nailed a three-point field goal at 1:21 to trim the gap to two (60-58). Senior Brandon Kunz (Lake Zurich HS, Lake Zurich, Ill.) fought through traffic for a layup with :52 left to make it 62-58 but a pair of Wuest free throws at :29 once again made it a two-point game (62-60).
Freshman Tayvian Johnson (United Township HS, East Moline, Ill.) drilled a pair of clutch free throws with :23 left and the lead was four (64-60). After Kenny Payonk of Elmhurst could only convert on one of two freebies with :10 left, the Vikings got single charity tosses by Jurgutis and Johnson in the final 10 seconds to account for the final score.
While Ryan's 21 led the way, Jurgutis was in double figures with 14 and Johnson scored 11, all in the second half. Kunz, the Vikings' leading scorer on the season, was held to eight points but he had 10 rebounds. Augustana won the rebounding battle by a margin of 37-33.
Wuest and Nick Sanford led Elmhurst in scoring with 11 points each.
Augustana, now 17-7 overall and 7-6 in the CCIW, closes out the regular season with a 7:30 p.m. game against Millikin on Tuesday, February 19 in the Carver Center. The Vikings are trying to clinch a spot in the CCIW Tournament, which will be held on Friday, February 22 and Saturday, February 23 in Bloomington, Illinois. Augustana is the only team in the CCIW that has qualified for the league tournament every year of its existence. This would be the eighth straight year for the Vikings.
Elmhurst is now 6-18 overall and 2-11 in the CCIW.