February 16, 2013
Cold-shooting Vikings fall at Elmhurst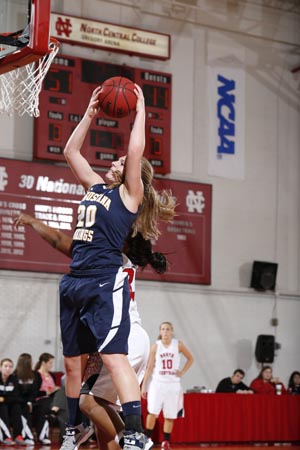 Amy Hicks scored a game-high 16 points and led Augustana in rebounding with six but the Vikings scored just one point in the final 8:18 and lost 55-44 at Elmhurst on Saturday, February 16.
ELMHURST, Ill. - In a game where the two teams combined to shoot just 26 percent from the field, Elmhurst prevailed over Augustana 55-44 in College Conference of Illinois & Wisconsin action on Saturday, February 14 at R.A. Faganel Hall. The Vikings and the Bluejays only made 27 of 105 (.257) field goal attempts, including just four of 33 (.121) from three point range.

Augustana led by five points (43-38) with 8:18 left in the game following a conventional three point play by junior Amy Hicks (Rockford Christian HS, Rockford, Ill.). The Vikings would score just one more point, that coming on a free throw from Hicks in the final minute, for the remainder of the game. Elmhurst closed out the final eight-plus minutes on a 17-1 run to secure the victory.
The game was tied eight times and the Bluejays led by three (29-26) at halftime. Augustana shot just .245 (13-53) from the field although Elmhurst's .269 (14-52) was only slightly better. The Bluejays did hold a decisive 51-36 advantage in rebounding with Fiona McMahon hauling down 10.
Hicks was the lone Augustana player in double figures with 16 points as she hit four of five shots from the field and was seven of 10 from the free throw line. She also made her only three point attempt, the only Viking to hit from long distance in the entire game. Hick led the team in rebounding with six and had a blocked shot and a steal.
Chaney Tambling (Dwight HS, Dwight, Ill.) and Jessica Baids (West Chicago HS, Carol Stream, Ill.) each had seven points in a losing cause.
Elmhurst put three players in double figures with Kim Schwerdtmann leading the way with 14. McMahon had 12 and Mel Schwerdtmann dropped in 10.
Augustana falls to 7-17 overall and 2-11 in CCIW play while Elmhurst is now 11-13 and 5-8. The Vikings close out the season on Tuesday, February 19 at defending NCAA Division III national champion Illinois Wesleyan in Bloomington. Tipoff for that contest is set for 7:30 p.m.